The EVB-USB5534-01 Revision E Evaluation Board is a demonstration and evaluation platform featuring the SMSC USB5534B 4-port USB 3.0/2.0 hub on a 4-layer RoHS-compliant printed circuit board. The USB5534B is fully compliant with the USB 3.0 USB Specification and supports SuperSpeed (SS), Hi-Speed (HS), Full-Speed (FS), and Low-Speed (LS) USB signalling for complete coverage of all defined USB operating speeds. All four of the downstream ports are USB 2.0 and USB 3.0 compliant. The EVB-USB5534-01 demonstrates driver compatibility with Microsoft Windows 8, Windows 7, WinXP, Mac OS X 10.4+ and Linux Hub Drivers. The USB5534B is configured for operation through internal default settings and supports custom configurations through SMBus or an optional external 2-Mbit SPI Flash device, U7.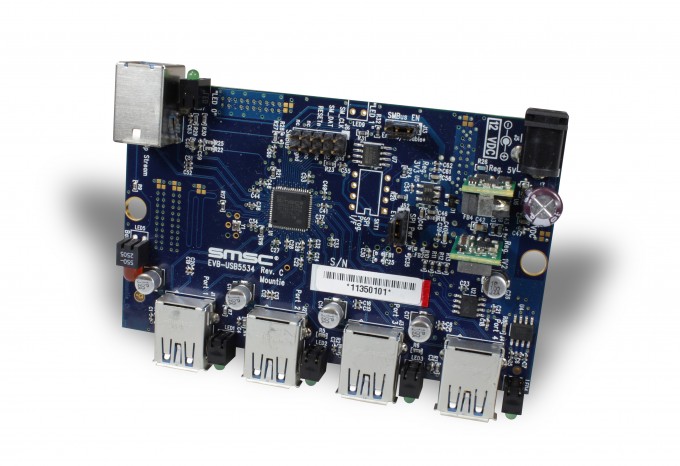 The EVB-USB5534-01 only supports self-powered operation, and is powered through one +12.0 V regulated 'wall wart' external power supply.
All four USB downstream port powers are controlled via two 1 A port power devices (AP2176S). All four downstream ports have individual overcurrent sensing available and all sensing signals are pulled high to +3.3 V through external 10 k resistors.
Features
USB5534B in a 64-pin QFN RoHS compliant package
USB 3.0 compliant (SS, HS, FS, and LS operation)
USB pins are 5 V tolerant
Self powered operation
Four downstream USB 2.0/3.0 ports
All downstream ports support individual port power and overcurrent sense
Optional onboard SPI Flash for external downloadable firmware
Low-cost 4-layer space saving design
Operates from one single voltage (+12.0 V, regulated) external power supply
Two GPIO LED indicators (LED0 and LED1)
Single 25 MHz crystal or external clock input
Single onboard +3.3 V, 0.5 Amp regulator
Single onboard +1.25 V, 3 Amp regulator
+3.3 V and port power LED indicators
EVB-USB5534-01 Schematic Diagram