Freescale Intorduces Evaluation Board - USB To SPI Interface BD
Freescale » KITUSBSPIEVME, KITUSBSPIDGLEVME
The KITUSBSPIEVME MC68HC908JW32 Demo Board is a working hardware/software example that allows a user to become familiar with the MC68HC908JW32 by means of an actual useful application, a USB to SPI and USB to parallel converter. The main function provided by this Demo Board is to allow a PC, that may not have a parallel port, to communicate with other Freescale Evaluation Boards, via a USB port. The USB port is a standard feature on almost every new PC. This kit makes use of the MC68HC908JW32's built-in USB, SPI and parallel ports.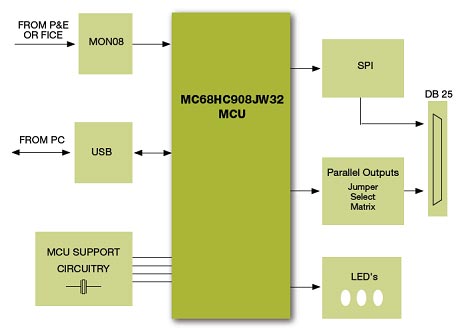 USB to SPI converter
USB to parallel converter
Reprogramming capability for the MC68HC908JW32, through the MON08 port.
Uses Freescale's PC based SPIGen software
MC68HC908JW32 MCU is available with a variety of memory sizes and types, modules and package types
PCB contains a USB type A connector (male) and a USB type B connector (female)
You may have to

register

before you can post comments and get full access to forum.
News on theme:
RadioLocman on the Social Web: