Simple to use board simplifies and speeds up development process
Toshiba Electronics Europe announces a new evaluation board for their TPD420xF series of brushless DC (BLDC) three-phase motor driver ICs to speed up the process of prototyping and developing new motor drive solutions up to 80W including white goods, home devices such as hair dryers as well as coolers for fresh goods in the supermarkets and more.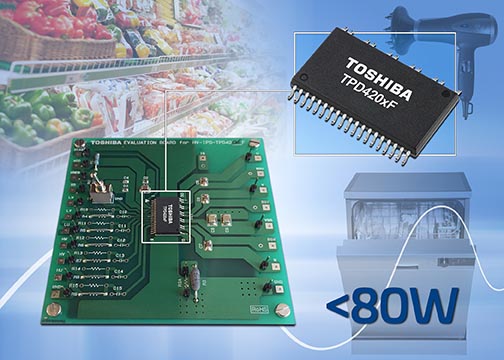 The family of three BLDC driver ICs use high voltage PWM control and are fabricated with a high voltage (500 V / 600 V) process. They are highly integrated and contain a level-shifting high-side driver, low-side driver, MOSFET outputs, voltage regulator and multiple circuit protections including overcurrent, undervoltage and thermal. A three-shunt resistor circuit is also included for three-phase current sensing. The TPD4204F and TPD4206F are rated at 2.5 A while the TPD4207F is capable of delivering 5 A of output current.
The devices are housed in a small SSOP30 package measuring just 20.0 mm × 14.2 mm × 2.2 mm and accept logic-level inputs from a microcontroller or motor controller to drive the BLDC motor.
The evaluation board measures 100 mm × 100 mm and contains all of the required passive components required to create a BLDC motor driver. Multiple pads are provided to connect and configure the external driver and motor. Probing pads are also provided to facilitate easy monitoring of key voltage waveforms, thereby allowing designers to accurately monitor performance of development projects.