Evaluation Board Analog Devices EVAL-AD5791
Main Features of Kit or Board
Parameter
Value
Base component
Analog Devices
Board peripherals

I/O pins
SPI
high-speed DAC
The EVAL-AD5791 is a full-featured evaluation board, designed to allow the user to easily evaluate all features of the AD5791 voltage output, 20-bit DAC. The AD5791 pins are accessible at on-board connectors for external connection. The board can be controlled by two means, via the on-board connector (J6) or via the system development platform connector (J3). The SDP board allows the evaluation board to be controlled through the USB port of a Windows® XP (SP2 or later) or Vista (32-bit) based PC using the AD5791 evaluation software.
Prices
Detailed Description
The Evaluation board for the AD5791 contains a SDP-B connection and software allowing the AD5791 to be controlled from a SDP-B board.

The AD5791 is a high precision, 20-bit digital-to-analog converter (DAC), designed to meet the requirements of precision control applications. The output range of the AD5791 is configured by two reference voltage inputs. The device is specified to operate with a dual power supply of up to 33 V. Complete specifications for the AD5791 are available in the AD5791 data sheet available from Analog Devices and should be consulted in conjunction with this user guide when using the evaluation board.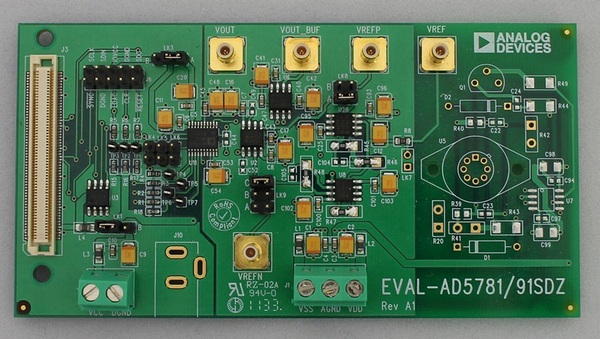 FEATURES
1 ppm resolution
1 ppm INL
7.5 nV/√Hz noise spectral density
0.19 LSB long-term linearity stability
<0.05 ppm/°C temperature drift
1 μs settling time
1.4 nV-sec glitch impulse
20-lead TSSOP package
Wide power supply range up to ±16.5V
35 MHz Schmitt triggered digital interface
1.8 V compatible digital interface
Extended automotive operating temperature range: −55°C to +125°C
Enhanced Product Features
Supports defense and aerospace applications (AQEC standard)
Military temperature range (−55°C to +125°C)
Controlled manufacturing baseline
One assembly/test site
One fabrication site
Enhanced product change notification
Qualification data available on request
Applications:
Medical
instrumentation
Test and measurement
Industrial control
High end scientific and aerospace instrumentation
Kit includes:
Evaluation Board
Software CD
Other Names:
EVALAD5791, EVAL AD5791
You may have to

register

before you can post comments and get full access to forum.
RadioLocman on the Social Web: