Evaluation Kit Atmel ATTINY104-XNANO
The Atmel ATTINY104-XNANO Xplained Nano evaluation kit is a hardware platform for evaluating ATtiny102/ATtiny104 microcontrollers.
Prices

Detailed Description
Supported by the Atmel Studio free integrated development platform, the kit provides easy access to all device I/O, one button, and one LED.
The Xplained Nano evaluation kit includes an on-board programmer, and no external tools are necessary to program the ATtiny104 host MCU that drives the board.
The onboard programmer can be completely disconnected from the host MCU or it can be used to program any other MCU with the Tiny Programming Interface (TPI).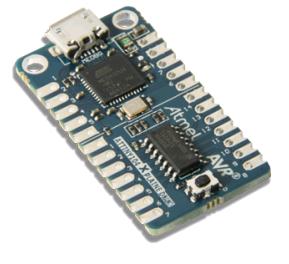 Key Features
Atmel ATtiny104 host 14-pin 1kB Flash MCU:

1 kB Flash / 32 bytes SRAM
8- and 14-pin packages down to 2 mm x 3 mm in size
Up to 12 MIPS at 12 MHz
Self-programmable Flash
Accurate (±3%) Internal oscillator
Multiple calibrated internal voltage references (1.1 V, 2.2 V, 4.3 V)
10-bytes Unique ID (serial number)
USART
10 bit ADC and analog comparator
1.8 V to 5.5 V voltage range
-40°C to +105°C and -40°C to +125°C temperature ranges

Embedded programmer for programming the host MCU
One mechanical button
One LED
Access to all I/O lines
Main Features of Kit or Board
Parameter
Value
Base component
Atmel
Core
AVR
Category, bit
8-bit
Supported families
AVR8-bit
Board peripherals

I/O pins
I2C interface
SPI
TWI
USB
ISP
analog inputs
user buttons
user LEDs
Other Names:
ATTINY104XNANO, ATTINY104 XNANO