Ideal for Consumer, Industrial and Home Automation Markets, New 8-bit AVRs Deliver Industry's Smallest And Lowest Power 8-bit MCU Solution on the Market Today with Just 1kB Flash
Atmel Corporation, at Embedded World 2016, announced the world's highest performing, low power, 8-bit MCUs with 1 kB Flash memory. The new ATtiny102/104 MCUs run up to 12 MIPS and integrate features previously only available in larger more expensive MCUs, making them ideal for smaller applications including logic replacement and the latest cost-optimized applications in the consumer, industrial and home automation markets.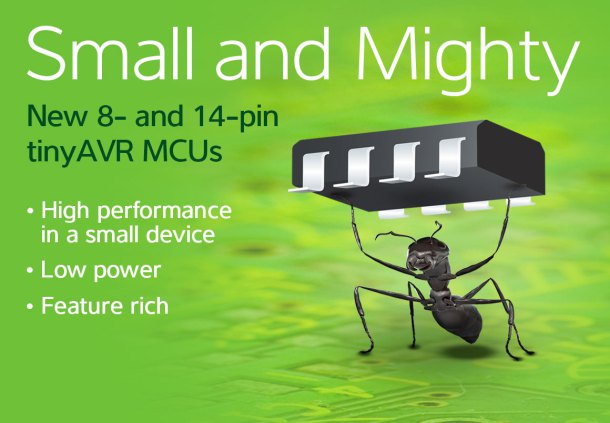 The majority of today's 8-bit market growth is coming from applications that previously only required discrete components. With many of these new applications requiring simple intelligent functions including timing, motor control or on/off functionality, 8-bit MCUs are becoming an essential feature for the personal healthcare, small kitchen appliance and consumer markets. The ATtiny102/104 8-bit AVRs provide all the necessary features to help spur the growth in these applications with its small, cost-optimized low-pincount package with just 1 kB of Flash memory. Integrated features include self-programming for firmware upgrades; non-volatile data storage; accurate internal oscillator to provide more reliable motor control; high-speed serial communication with USART; operating voltages ranging from 1.8 V to 5.5 V, 10-bit ADC with internal voltage references; and sleep currents at less than 100 nA in power down mode with SRAM retention.
Key Features for Atmel's 8-bit tinyAVR MCUs
1 kB Flash / 32 bytes SRAM
8- and 14-pin packages down to 2 mm × 3 mm in size
Up to 12 MIPS at 12 MHz
Self-programmable Flash
Accurate (±3%) Internal oscillator
Multiple calibrated internal voltage references (1.1 V, 2.2 V, 4.3 V)
10-bytes Unique ID (serial number)
USART
10 bit ADC and analog comparator
1.8 V to 5.5 V voltage range
-40 °C to +105 °C and -40 °C to +125 °C temperature ranges
The ATtiny102/104 product is a small, very versatile, low-cost and easy to use microcontroller that fits almost any application. It can be used for system monitoring, battery measurements, battery charging, voltage measurements, current measurements, interface to buttons, switches, drive of small motors, drive of one or more LEDs and so on. The USART provides a means for wired or wireless interface, making it possible to create a powerful yet small and low-cost solution for all types of Internet of Things (IoT) end-nodes.
Development Kits and Ecosystem
To accelerate the design process, Atmel offers a low-cost Xplained Nano evaluation kit ATTINY104-XNANO available for only $4.44 USD in the Atmel Store. The new kit includes a board with an ATtiny104, embedded programmer, access to all I/O, one push button and one LED. The ATtiny102/104 are fully supported by Atmel's development ecosystem, including Atmel Studio 7, the integrated development environment (IDE) for developing and debugging Atmel | SMART Cortex-M and Atmel AVR MCU-based applications. Atmel Studio 7 gives designers a seamless and easy-to-use environment for coding, building, simulating, programming, and debugging applications for Atmel MCUs. With Atmel's broad portfolio of AVR products and easy-to-use development software, designers can bring their 8-bit MCU to market quickly. Additionally, designers have access to the company's embedded software, including the Atmel Software Framework and application notes, and the Atmel Gallery 'app' store.
Availability
The ATtiny 102/104 engineering samples are available today with mass production samples scheduled for May 2016.