Universal 8x 48-pin-drive multiprogramming system Elnec BeeHive208s
BeeHive208s - Extremely fast universal 8x 48-pin-drive Stand-Alone concurrent multiprogramming system.
Detailed Description
Short description:
53530 supported devices by 2.69 supported devices by 2.69 version of SW (6.

May. 2010)

eight independent universal programming modules (BeeProg2 based) in one unit
extremely fast programming, one of the fastest programmers in this category. Programs 64Mbit NOR Flash
memory less than 9 seconds and 1Gbit NAND Flash less than 70 sec. powerful independent pin-driver circuit for each and every pin of the programmer
in-circuit programming capability through ISP connector
graphics control unit with touch screen
very low voltage support for the latest Flash memory chips
ESD protection on each pin of the sockets
no adapter required for any DIL devices
Windows XP Embedded driven control PC internal to the programmer
unique quick reaction to customer's needs - software update can be ready within a day from request by OnDemand software
warranty - 3 years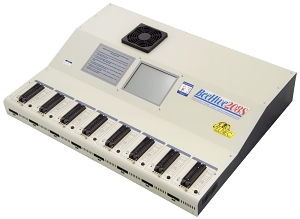 Features
GENERAL
BeeHive208S programmer is practically identical with the BeeHive8S programmer, difference is "only" much higher programming speed (20-70%) of high-capacity memories.
The BeeHive208S is an extremely fast universal 8x 48-pin-drive Stand-Alone concurrent multiprogramming system designed for high volume production programming with minimal operator effort. The chips are programmed at near theoretical maximum programming speed.
The BeeHive208S consists of 8 independent isolated universal programming modules, based on the BeeProg2 programmer hardware. Therefore the sockets can run asynchronously (concurrent programming mode). Each programming module starts programming at the moment the chip is detected as inserted in the socket properly - independent of the status of the other programming modules. As a result, seven programming modules can be working while replacing the programmed chip on the eighth.
Graphics control unit with touch screen provides basic control and easy monitoring of the programming flow.
Modular construction of the hardware - the programming modules work independently - allowing for continued operation if a part of the circuit becomes inoperable. It also makes service quick and easy.
Hands-free operation: asynchronous and concurrent operation allows a chip to begin programming immediately upon insertion. The operator merely removes the finished chip and inserts a new chip. Operator training is therefore minimized.
Supports all types of the silicon technologies found in the programmable devices of today and tomorrow without family-specific modules. You can be sure that new device support will require only a software update and (if necessary) a simple package convertor (programming adapter), therefore minimizing ownership costs.
Using built-in in-circuit serial programming (ISP) connector, the programmer is able to program ISP capable chips in circuit.
Combines very competitive pricing with excellent hardware design for reliable programming. Probably the best "value for the money" programmer in its class.
Very fast programming due to high-speed FPGA driven hardware and execution of time-critical routines inside the programmer. At least as fast as our competitors in this category for most devices, and for many it is faster. As a result, when used in a production environment this programmer will usually be waiting for an operator, and not the other way round.
Banana jack for ESD wrist strap connection to easily implement ESD protection control.
HARDWARE (valid for each programming module)
FPGA based totally reconfigurable 48 powerful TTL pin-drivers provide H/L/pull_up/pull_down and read capability for each pin of socket. Advanced pin-drivers incorporate high-quality high-speed circuitry to deliver signals without overshoot or ground bounce for all supported devices. Pin-drivers operate down to 1.8V so you'll be ready to program the full range of today's advanced low-voltage devices.
Each programming module performs a device insertion test (wrong or backward position) and contact check (poor contact pin-to-socket) before it programs each device. These capabilities, supplemented by over-current protection and signature-byte check, help prevent chip damage due to operator error.
The self-test capability allows the operator to run the diagnostic part of software to thoroughly check the health of the each programming module.
Built-in protection circuits eliminate damage to the programming module and/or programmed device due to environment or operator failure. All ZIF socket pins inputs and all pins of ISP connector of the BeeHive208S programmer are protected against ESD up to 15kV.
The BeeHive208S programmer performs programming verification at the marginal level of supply voltage, which obviously improves programming yield, and guarantees long data retention.
Various socket converters are available to handle devices in PLCC, SOIC, PSOP, SSOP, TSOP, TSSOP, TQFP, QFN (MLF), SDIP, BGA and other packages.
Specifications (valid for each programming module)
Base unit, DACs

USB 2.0 high-speed compatible port, up to 480 Mbit/s transfer rate
on-board intelligence: powerful microprocessor and FPGA based state machine
three D/A converters for VCCP, VPP1, and VPP2, controllable rise and fall time
VCCP range 0..8V/1A
VPP1, VPP2 range 0..26V/1A
autocalibration/self-test
self-test capability

ZIF sockets, pin-driver

48-pin DIL ZIF (Zero Insertion Force) socket accepts both 300/600 mil devices up to 48-pin
pin-drivers: 48 universal
VCCP/VPP1/VPP2 can be connected to each pin
perfect ground for each pin
FPGA based TTL driver provides H, L, CLK, pull-up, pull-down on all pin-driver pins
analog pin-driver output level selectable from 1.8 V up to 26V
current limitation, over-current shutdown, power failure shutdown
ESD protection on each pin of socket (IEC1000-4-2: 15kV air, 8kV contact)
continuity test: each pin is tested before every programming operation

ISP connector

20-pin male type with miss-insertion prevention
6 TTL pin-drivers provide H, L, CLK, pull-up, pull-down; level H selectable from 1.8V up to 5V to handle all (low-voltage including) devices.
1x VCCP voltage (range 2V..7V/100mA), can be applied to two pins
programmed chip voltage (VCCP) with both source/sink capability and voltage sense
1x VPP voltage (range 2V..25V/50mA), can be applied to six pins
target system supply voltage (range 2V..6V/250mA)
ESD protection on each pin of ISP connector (IEC1000-4-2: 15kV air, 8kV contact)
two output signals, which indicate state of work result = LED OK and LED Error (active level: min 1.8V)
input signal, switch YES! equivalent (active level: max 0.8V)
Other Names:
PROG BeeHive208S BeeHive208S, PROG BeeHive208S BeeHive208S