Single chip integrates an ARM processor, software defined modem and RF transceiver; supports the growing number of digital protocols
The MC13260 System-on-Chip (SoC) Two-Way Radio is a single-chip integrated microcontroller, software-defined modem, and RF transceiver intended for use in the two-way radio market. The MC13260 SoC Two-Way Radio incorporates a 32-bit ARM9 microcontroller, a highly optimized software-defined vector modem processor, a high-performance sub-1GHz transceiver achieving higher frequencies with external components, and mixed-signal analog circuits for voice and peripheral support. The overall design and programmability of MC13260 enables rapid time to market for multi-mode products, such as dual-mode analog/digital radios.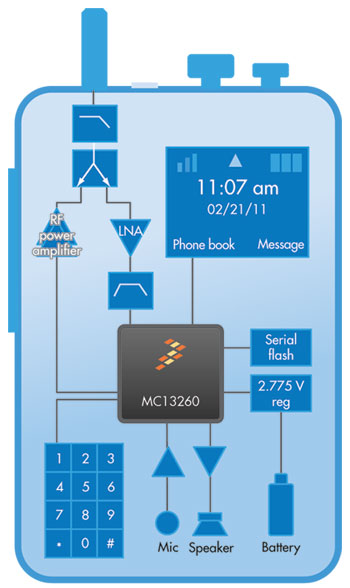 The high level of integration provides support for a comprehensive radio platform in a single package without the requirement of an additional external processor. This results in a small board area and a cost-effective solution. The MC13260 SoC Two-Way Radio provides a wide range of wireless communication protocol options, supporting both analog and digital modulation schemes.
The ARM926EJ-S provides flexibility and sufficient computational performance to execute a variety of speech and audio CODECs for use in digital voice communication, alerts, or music playback. The software-defined modem is a highly optimized vector digital signal processor enabling the implementation of analog and digital protocols, as well as enabling simple upgrade capabilities through software as standards evolve.
A complete two-way radio can be built using the MC13260 System-on-Chip Two-Way Radio as shown in Figure below.
The MC13260 SoC Two-Way Radio provides the following device level features:
ARM9 Platform

ARM926EJ-S core supporting clock speed up to 150 MHz.
EmbeddedICE logic.
Five-stage pipeline for ARM/Thumb.
Five-stage pipeline for Java.
External co-processor interface.
MMU, instruction and data caches.
Caches are virtually indexed and virtually addressed.
Supports ARM, Thumb, and Java.
Supports a JTAG port compliant to the ARM Debug Architecture.

Modem Engine

Programmable architecture; flexibility to implement a variety of functionality using the same hardware.
Supports both real and complex modes of operation.
52-bit fixed length VLIW instruction format.
Employs SIMD Architecture.
Nine-stage pipeline for instruction and data processing.
Uses 16-bit floating-point number representation thus offering a wide dynamic range.
Single clock cycle execution typical for modem macro-instruction.
DMEM which supports a 128-bit data read/write in each cycle.
Register bank of eight registers, each 128-bits wide.
The register bank supports 6 reads and up to 3 writes per cycle.
Two Arithmetic Units (AU), each unit is:

Capable of producing one complex multiply-and-add result, or
Four real multiply-and-add results in one clock cycle.

Produces one Decimation in Frequency (DIF) FFT or Decimation in Time (DIT) FFT butterfly per cycle.
Supports four levels of nested hardware loops.
Supports 8-deep Return Address Stack for subroutine calls.
Special Arithmetic Unit (SAU) to perform several common special arithmetic operations for example, 1/x, 1/sqrt(x),1/(1+exp(|x|)), log(x) and so on, by using look-up tables.
Comparator unit capable of minima/maxima search.
Conversion from fixed-point representation to floating-point representation and vice versa on-the-fly.
Supports conditional and unconditional program jumps and subroutine calls.
General Purpose Unit (GPU) capable of some logical and arithmetic operations, for example, logical AND, OR, NOT, EXOR and so on, besides arithmetic/logical shift operations.

Transceiver

Contains receive, transmit, and frequency generation subsystems.
Contains high fidelity converters for sub-MHz signals.
Capable of an RF frequency range of 60 MHz–960 MHz with a frequency resolution of 1 Hz or less.
High performance synthesizer achieves 75 dB adjacent channel selectivity.
Provides configurable RF data channel bandwidth from 6.25 kHz–600 kHz.
Contains one general purpose A/D and three general purpose D/A converters.
Supports an extended operating frequency range up to 3 GHz with external circuitry.
Supports linear transmit using an external modulator.
Voice CODEC

Digital Peripherals

Advanced Security Module (ASM)
Clock Monitor (CLKMON)
Clock Control Module (CCM)

Provides a mechanism to switch from one clock source to another without any glitch generation
Two clock sources comprise a high speed clock, CKIH, and low speed clock, CKIL.
Implements integral clock dividers
Manages various low-power modes defined for the SoC.

Configurable Serial Peripheral Interface (CSPI)
Deep Sleep Module (DSM)
Enhanced Periodic Interrupt Timer (EPIT)

32-bit down counter with clock source selection.
12-bit prescaler for division of input clock frequency.
Counter value can be programmed on the fly.
Can be programmed to be active in low-power and debug modes.
Interrupt generation when counter reaches the Compare value.

General Purpose Input/Output (GPIO)

General purpose input/output logic:

Ability to drive a specific data to the pad using DR register.
Ability to control the direction of the pad using the GDIR register.
The core is able to sample the status of the corresponding pads by reading the PSR register.

GPIO interrupts support:

Up to 32 interrupts.
Ability to identify interrupt edges.
Generate three one-bit interrupt lines to the SoC interrupt controller.

General Purpose Analog-to-Digital Converter (GPADC)
General Purpose Timer (GPT)

One 32-bit up-counter with clock source selection, including external clock.
Two input capture channels with programmable trigger edge.
Three output compare channels with programmable output mode.

Supports forced compare feature.

Can be programmed to be active in low-power and debug modes.
Interrupt generation at capture, compare, rollover events.
Restart or free-run modes for counter operation.

High-Performance Direct Memory Access (HDMA)
Inter-Integrated Circuit (I2C)
IC Identification Module (IIM)

Provides interface to the fusebanks, allowing fuses to be read or programmed.
Fuses may be programmed by software, directly by JTAG, or indirectly by JTAG via a processor.
Ability to override fuse values in software (does not affect the fuse element); override capability can be permanently disabled.
Ability to write-protect e-Fuses.
Ability to scan-protect (read and program).

KeyPad Port (KPP)

Supports a key pad matrix of up to 5 rows × 4 columns.
Port pins can be used as general purpose I/O.
Open drain design.
Glitch suppression circuit design.
Multiple keys detection.
Long key press detection.
Standby key press detection.
Synchronizer chain clear.
Double-edge interrupts to enable multiple keys detect or N-key rollover.

Pulse-Width Modulator (PWM)

Two selectable input clock sources.
16-bit resolution.
Two stage input clock divider (2, 4, 8, 16-divider and 7-bit prescaler).
Programmable through four user-accessible 32-bit registers.
4 × 16 bit FIFO with associated status and interrupts.
Software Reset function available to reset the entire PWM subsystem.

Random Number Generator (RNGB)
Real Time Clock (RTC)
System Reset Control (SRC)

Controls the Reset of the SoC.
Controls the operation of CLKMONs and the power management functions.

Synchronous Serial Interface (SSI)
Smart LCD Controller (SLCDC)

Transfers data from the display memory buffer to the external display device.

Direct Memory Access (DMA) transfers the data transparently with minimal software intervention.
Bus utilization of the DMA is controllable and deterministic.

Reduce the CPU's involvement in the transfer of data from memory to the display device.
Transfers are optimized by using Direct Memory Access (DMA).
After transfer is complete, a maskable interrupt is generated indicating the status.
Supports Serial and parallel interfaces.
Supports only writes to the display controller. Read operations from the display controller are not supported.
Two 32 × 8-bit FIFOs.
Control and status registers are accessible via the IP bus.
Configurable to write image data to an external LCD controller via a 4-line serial, 3-line serial, an 8-bit parallel interface.

Timer Module (TMR)

Four 16-bit counters/timers.
Counts up/down.
Counters are cascadable.
Supports programmable modulo count.
Maximum count rate equals peripheral clock/2 for external clocks.
Maximum count rate equals peripheral clock for internal clocks.
Count once or repeatedly.
Counters are pre-loadable.
Compare Registers are pre-loadable.
Counters can share available input pins.
Separate prescaler for each counter.
Each counter has capture and compare capability.
Timer Count Increment/Decrement Disable via DIS_L1T Input.

Universal Asynchronous Receiver/Transmitter (UART1, UART2)
USB Full Speed Device Controller (USB-FS)

USB 2.0 compliant Full Speed device controller.
Eight bidirectional End Points.
Support control, isochronous, bulk and interrupt End Point types.
DMA or FIFO data stream interface.
Low-power suspend mode.

USB Transceiver

Complies with Universal Serial Bus Specification, Revision 2.0.
Runs at low (1.5 Mbps) and full (12 Mbps) speeds.
Converts USB differential voltages to a digital logic signal and vice versa.
Supports a 3.5 meter maximum cable length connected to the USB data bus.

Watchdog Timer (WDOG)
RF/Analog Interfacing Peripherals
General Purpose Analog-to-Digital Converter Interface (GPADC-IF)

IP bus interface for ARM.
Interrupt generation.
Generation of control signals to the analog GPADC circuit.
Schedules data conversions on the multiplexed A/D inputs.
GPADC can be triggered by software or Transceiver Sequence Manager.

RF Data Interface (RFDI)

Provides bus interface for Rx and Tx data.
Contains a multistage decimation filter to convert slow data rate to fast date rate.
Contains a multi-stage interpolation filter to convert fast date rate to slow date rate.
Rx FIFO to provide temporary data storage on receiving data path.
SYNTH FIFO to provide temporary data storage on frequency synthesis data path.
Operations to be controlled by TSM.
Supports TxIQ mode allowing the RFDI block to provide the I and Q data to the high speed DACs.

Transceiver Sequence Manager (TSM)

Up to 32 sequence events for either:

Separated Rx/Tx warm-up/warm-down events, or
Combined warm-up / warm-down events.

Triggered by pre-selected timer from TMR module (Timer Module).
Programmable selection between Receive or Transmit Sequence.
Supports autonomous execution of an already-started sequence without host core intervention.
Start sequences either synchronized with TMR timer, or initiated by setting a start signal.
Directly or indirectly (delayed from a signal being set) initiated warmdown sequence.
Three maskable interrupt signals are generated to the ARM9 core at the end of sequences.
Allow software overriding of its outputs.

Transmit Power Ramp Control (TPRC1, TPRC2, TPRC3)

TSM controls ramp direction and ramp trigger.
MCU programs the ramp profile into LUT for each PA stage. Loaded before ramp trigger.
MCU programs target power for each PA stage. Loaded before ramp trigger.
MCU programs duration and ramp step which determines the number of L1 clocks in between samples.
Each TPRC controls one of the three DACs
Enables DAC selection to determine whether one, two, or three DACs are enabled during ramping.
MCU controls ramp bypass to apply static target power value to input of DAC.
Supports a bypass mode to allow direct streaming of I and Q data from RFDI to the GPDACs.
MC13260 SoC block Diagram