STMicroelectronics announced a new TV System-on-Chip (SoC) IC offering 3DTV support and advanced 120Hz MEMC (motion estimation, motion compensation). Designed for next–generation 1080p full-high-definition (FHD) integrated Digital TVs (iDTVs), ST's new FLI7525 SoC enables a new class of mid-range, 3DTV-enabled, 120Hz Internet TVs.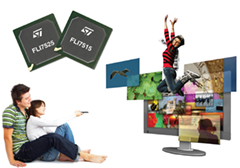 The FLI7525 is the flagship product in ST's new Freeman Premier series of SoCs and is the industry's first TV SoC with integrated 3DTV support and 120Hz MEMC processing. ST implements MEMC with a proprietary technology* that reduces film judder and motion blur to preserve 3D effects with fast motion The FLI7525 is compliant with HDMI v1.4a and its required 3DTV formats. The FLI7525 also includes proprietary 2D to 3D conversion with its proprietary judder reduction technology and depth control for video and on-screen displays.
In addition to offering high-performance H.264/MPEG audio/video decoding and comprehensive integrated features, the FLI7525 SoC delivers an enhanced user experience with full support for broadband-Internet iDTV functionality and expanded graphics capabilities, enabling compelling services and new premium-content business models.
The FLI7525 is pin and software compatible with the FLI7510, which was introduced at CES 2010, and is the culmination of the integration of world-class technologies from ST's industry-leading set-top-box chips and the Emmy® Award winning Faroudja™ video processing technologies.
"The new FLI7525 integrates all of the key technologies required by TV manufacturers for next-generation iDTVs," said Luigi Mantellassi, General Manager of ST's TV and Monitor Division. "As Hollywood accelerates the creation of 3D content and consumers embrace it as more enriching entertainment, it becomes vital to offer more affordable 3DTV-capable TVs to fuel the growth of this segment. Offering unprecedented 3DTV-on-a-chip capabilities, the
FLI7525 delivers a smooth and seamless 3D experience, regardless of whether the content is originally 2D or 3D."
Also included in the 'Freeman Premier' family is the FLI7515, which is pin and software compatible with the FLI7510 and adds integrated 120Hz MCTi to drive the value 120Hz 2DTV market segment.
FLI7525 – 100/120 Hz FRC and 3DTV for EU/US DTT + cable iDTV application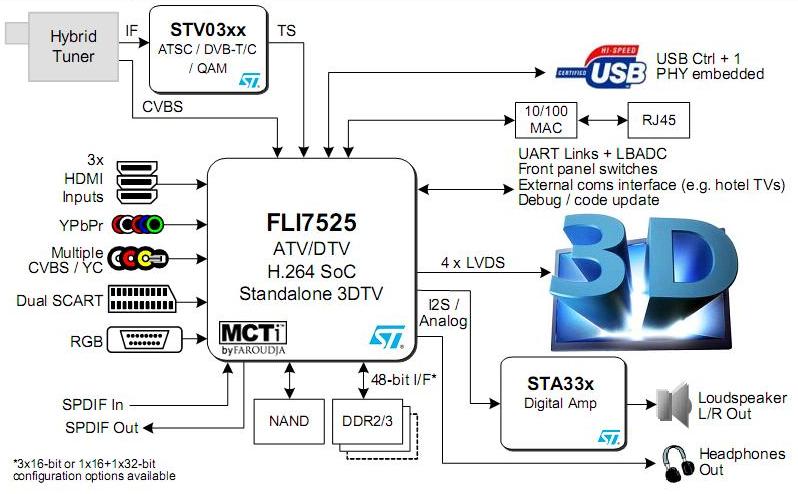 Click to enlarge
Availability and Pricing
The FLI7525 and FLI7515 are now sampling to qualified customers. Pricing is available upon request. The FLI7525 will be demonstrated at ST's private suite at IFA 2010 in Berlin.