Altium
La Jolla, CA, USA
Type: Development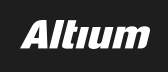 Software company that provides PC-based electronics design software for engineers (until 2001 - Protel). Products:
Altium Designer – unified electronics design solution.
AltiumLive – the cloud-based community that connects Altium designers, collaborators, suppliers, manufacturers and customers.
Altium Vaults – Formal release, re-use and design data management server software.
Tasking – An embedded systems software development tool.
CircuitMaker – Free PCB Design Tools.
NanoBoard – reconfigurable hardware development platform.
P-CAD - Obtained through AccelEDA acquisition, retired in 2006.
Autotrax - The original Protel PCB design software for DOS.