Heroes
Shenzhen HEROES Technology Ltd.
Shenzhen, China
Type: Distributing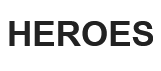 Distributor of electronic components and integrated circuits in Asi. Through its online marketplace, Heroes sells electronic components from many electronic component manufacturers and franchised distributors worldwide.These suppliers publish their unsold inventories and keep them continually updated, as often as every 10 minutes. Heroes is the global marketplace for authentic & warrantied electronic components.
Domestic Orders
Distributor accept Credit Card (Unionpay, Visa, MasterCard, Discover, American Express), Cash on Delivery, Certified Check, Telegraphic/Wire Transfer, Money Order, Alipay, or other Escrow Transactions.
International Orders
Distributor accept Telegraphic/Wire Transfer or Escrow Transaction: Western Union, Paypal, MoneyGram, Alipay. etc.
Minimum Amount
Some orders may require a minimum amount of $100.00.
Check or Cash on Delivery
It may require 3-5 extra days to process.
International Shipments
Distributor ship package via DHL, FedEx, UPS, TNT, EMS or other way.
We adhere to all export policies and rules. Some products may be ITAR restricted and the export restrictions may cause delay in shipping lead time.
Distributor also accept the shipping method as the client requested.