I managed to score one of the good 30 volt Ametek motors off of Ebay . for only $26. They don't go that cheap these days. People are catching on to the fact that they make great wind generators. Other brands will work, so don't fret about the price Ameteks are going for. Shop wisely. Anyway, The motor I got was in good shape and worked great. Even just giving the shaft a quick turn with my fingers would light a 12 volt bulb quite brightly. I gave it a real test by chucking it up in my drill press and connecting it to a dummy load. It works great as a generator, putting out easily a couple hundred Watts with this setup. I knew then that if I could make a decent set of blades to drive it, it would produce plenty of power.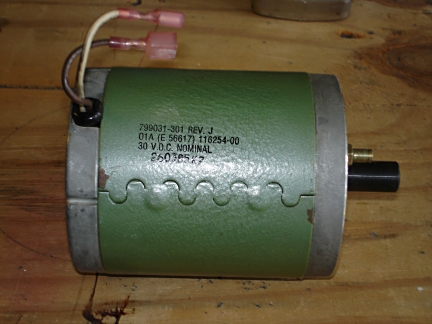 So Blades and a hub to connect them to were the next order of business. More online research ensued. A lot of people made their own blades by carving them out of wood. That looked like an outrageous amount of work to me. I found that other people were making blades by cutting sections out of PVC pipe and shaping them into airfoils. That looked a lot more promising to me. This web site tells you how to make a set of blades for a small wind turbine using PVC pipe.
http://www.yourgreendream.com/diy_pvc_blades.php

I followed their general recipe. I did things a little differently though. I used black ABS pipe since my local homecenter store just happened to have pre-cut lengths of it. I used 6 inch pipe instead of 4 inch and 24 inches long instead of 19 5/8. I started by quartering a 24 inch long piece of pipe around its circumference and cutting it lengthwise into four pieces. Then I cut out one blade, and used it as a template for cutting out the others. That left me with 4 blades (3 plus one spare).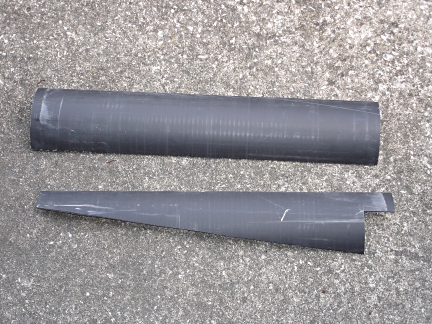 I then did a little extra smoothing and shaping using my belt sander and palm sander on the cut edges to try to make them into better airfoils. I don't know if it's really much of an improvement, but it didn't seem to hurt, and the blades look really good (if I do say so myself).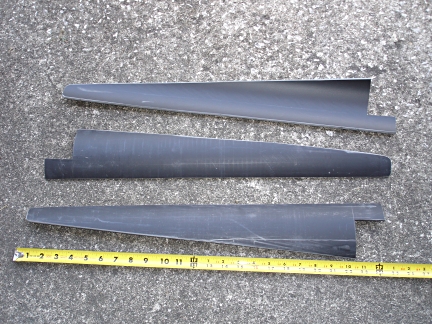 Now I needed a hub to bolt the blades to and attach to the motor. Rummaging around in my workshop, I found a toothed pulley that fit on the motor shaft, but was a little too small in diameter to bolt the blades onto. I also found a scrap disk of Aluminum 5 inches in diameter and ј inch thick that I could bolt the blades onto, but wouldn't attach to the motor shaft. The simple solution of course was to bolt these two pieces together to make the hub.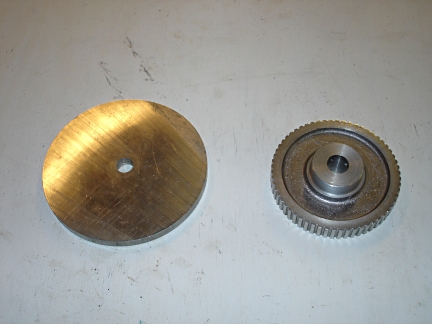 Much drilling, tapping and bolting later, I had a hub.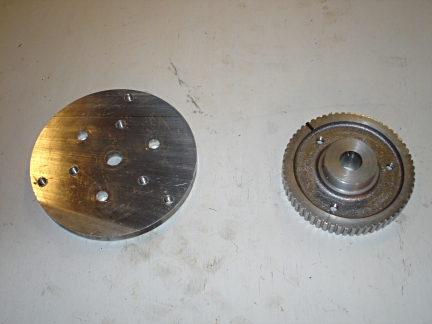 Here it is assembled and with the blades attached (after drilling mounting holes in them of course).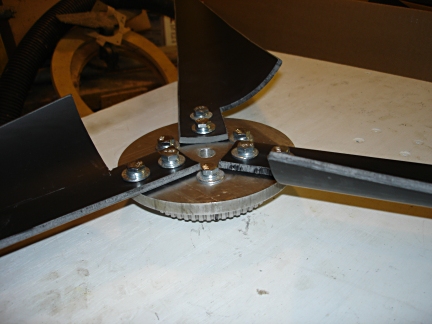 Here is another view of the hub with blades attached.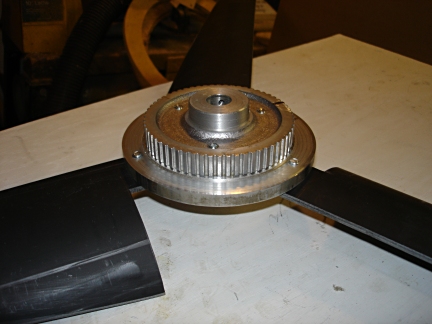 On a trip to the homecenter store for some PVC doo-dad or other for another project, I found these dome shaped vent caps.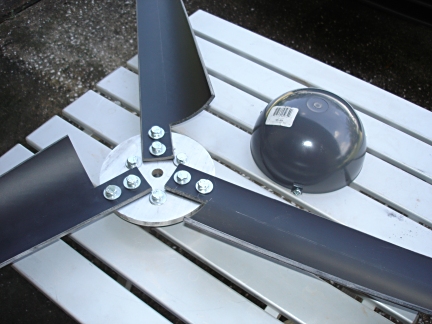 I immediately thought of adding a spinner to the hub. Wow, with that on there, it really looks like a professionally made unit. I'd never be able to convince anyone I built it myself out of junk from my workshop and plumbing parts. They'd all look at me when I said I built it myself and go "Yeah, right." Then I found a web site that claimed such spinners disrupt the airflow and hurt the efficiency of the blades. I'm not sure I believe the reasoning behind the claim, but I left the spinner off, at least initially.
To be continued...