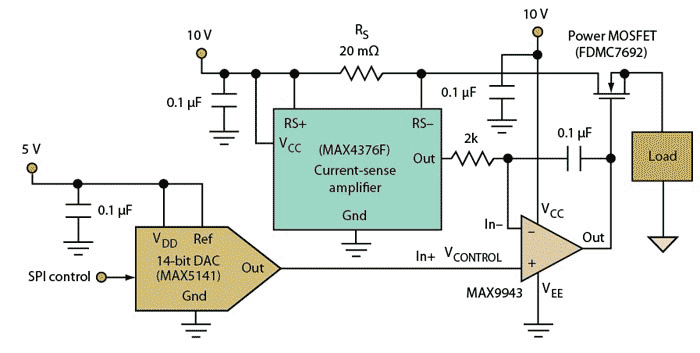 A serial digital signal controls a 14-bit DAC that allows this circuit to generate a high-precision load current with a range of 0 to 5 A.
A negative-feedback loop forces voltage on the amplifier's (MAX9943) negative input terminal to equal that on the positive terminal. This causes the op amp to generate the voltage needed for the desired output current. The output current (IOut) depends on the value of the sense resistor (RS), the gain of the current-sense amplifier (ACSA), and the control voltage:
IOut = VControl/(RS • ACSA)
A unipolar digital-to-analog converter (DAC) provides the control voltage, with a full-scale output of 5 V. The op amp then servos the current-sense amplifier's output to this control voltage by driving the power MOSFET. For a zero-scale input, the DAC control voltage is 0 V and the circuit delivers 0 A to the load. For a full-scale input, the control voltage is 5 V and the circuit provides 5 A to the load.