Margery Conner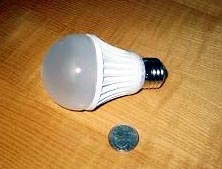 Almost two years ago I did my first LED teardown on a 7W LED bulb from Taiwanese manufacturer TESS.
They sent me two bulbs, one in warm white and one cool. I tore down the cool white, and afterwards re-purposed it so that, minus its protective plastic dome, it lives behind a light fixture on the ceiling of the laundry room and still works.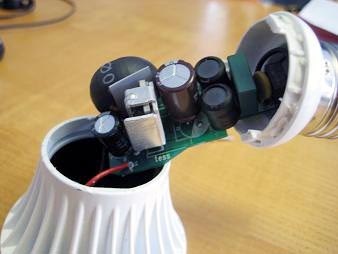 From the original teardown, the above shows the power supply unit
However, its warm white brother went to work in a table lamp, actually a more benign application because it tends to get turned on for long periods of time, rather than cycled on and off in the laundry room. To my surprise, the table lamp LED recently stopped working. What gives? It's lifetime was much less than I would expect from an incandescent bulb, and nowhere near the tens of thousands of hours lifetime claimed by many LED bulb manufacturers.
As a dedicated proponent of solid-state lighting, I was a bit nervous – was it the LEDs themselves that pooped out after only a few years of relatively light use? [cue ominous music] Or would it be the power management circuitry, including the control IC, the switching transistors, or the much-maligned electrolytic capacitor?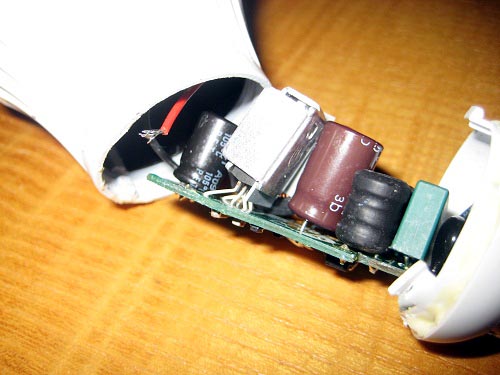 Prosaically, the failure was a poor solder joint on the power wire from the power supply to the LEDs.You can see the dangling red power wire below.
And sure enough, when soldered back to the board, the light again worked.
If you read some about Geof Potter's research into LED lighting failure mode, you may remember that the most common fault type is solder joints. Generally, "solder joints" refers to the PC board flow-soldered joints, just because there are so many of them. However, the wire solder point is hand-soldered and even more of a danger point.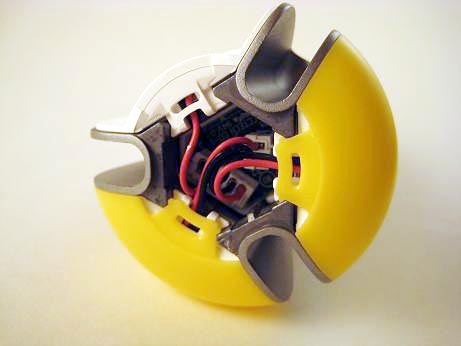 More than ever, I like the way Philips used connectors in its much more complex bulb