Application Note AND9149/D
August 2013
NCN5120 is a receiver-transmitter IC suitable for use in KNX® twisted pair networks (KNX TP1-256). It supports the connection of actuators, sensors, microcontrollers, switches or other applications in a building network.
NCN5120 handles the transmission and reception of data on the bus. It generates from the unregulated bus voltage stabilized voltages for its own power needs as well as to power external devices, for example, a microcontroller.
NCN5120 assures safe coupling to and decoupling from the bus. Bus monitoring warns the external microcontroller for loss of power so that critical data can be stored in time.
NCN5120 has several voltage regulators to generate different voltages. One of these voltage regulators is a 20 V low drop linear regulator typically used for driving relays. Because NCN5120 has a high efficient adjustable DC-DC converter, driving of relays can be done in a more efficient way. This application note describes how to use the adjustable DC-DC converter for driving relays in an efficient way under all operating conditions.
Download Application Note AND9149/D (97 Kb)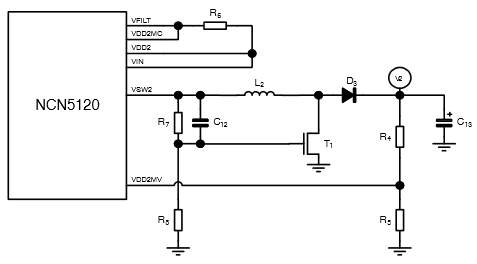 DC2 Schematic for Driving Relays