Application Report DLPA043
October 2013
Texas Instrument's DLP Technology enables highly-efficient, next-generation, full-color, large field-of-view Automotive Head-Up Display (HUD) systems with augmented reality capability. The uniqueness of DLP Technology makes it possible to solve common design challenges of Head-Up Display systems including managing environmental extremes and thermal loading, delivering high brightness and high resolution, and implementing dynamic dimming capabilities. Additionally, DLP projection-based architecture provides flexibility in the optical design needed to create very large field of view virtual displays over the road that augment and assist the driver. This paper includes a brief overview of DLP solid state illumination operation and how the implementation of DLP technology can solve the common HUD design challenges listed above. DLP Technology can be used to create advanced solutions for the future of automotive Head-Up display applications.
Texas Instruments DLP® projection is a mature and widely used technology in numerous display applications including: hand-held projectors, conference rooms, and digital theaters. DLP technology is well suited to meet the needs of advanced HUD systems. DLP electronics systems can enable video processing and formatting to meet needs for future HUD systems requiring both graphical and video images. The high-dynamic-range LED control system concept has been demonstrated to meet necessary conditions for day and night viewing. Additionally, optical design implementations based on DLP technology enable greater flexibility to solve optical design challenges, form factor constraints, and thermal load management of future automotive HUD systems.
Download Application Report DLPA043 (119 Kb)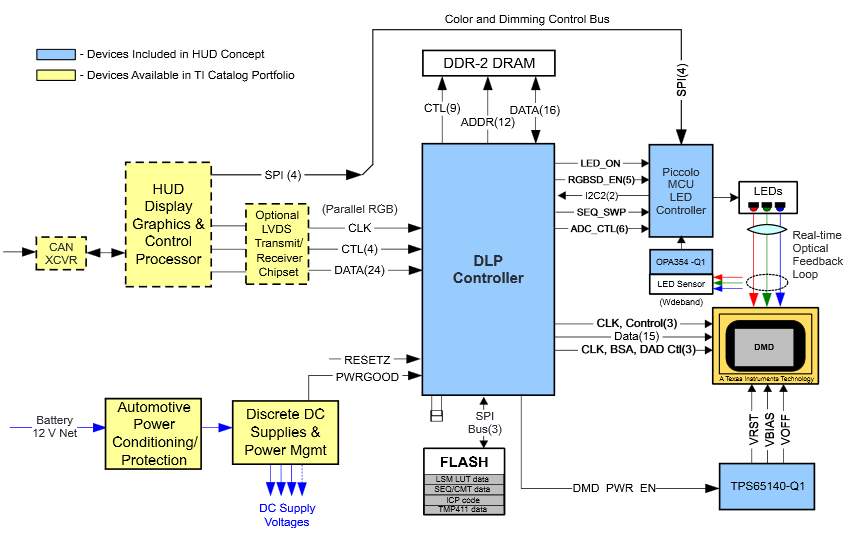 Typical DLP Head-Up Display System Application
Click to Enlarge