Reference Design APP 5610
December 2013
Yuriy Kurtsevoy, Stuart Smith

This reference design shows how to develop a high-performance, high-voltage 2- or 3-wire 4­20 mA current-loop transmitter suitable for industrial process control and smart sensors. Error analysis and overtemperature characterization data as well as hardware design and software are provided.
The 4­-20 mA current loop has been widely used as an analog communication interface in industrial applications. It facilitates transmission of data from remote sensors over a twisted-pair cable to a programmable logic controller (PLC) in a control center. Simplicity, reliable data transfer over long distances, good noise immunity, and low implementation cost make this interface well suited for long-term industrial process control and automated monitoring of remote objects.
To no one's surprise, industry is evolving just like all electronic applications today. It has more stringent demands. There are new requirements for higher accuracy, lower power, reliable operation over an extended -40°C to +105°C industrial temperature range, added security and system protection, and implementation of the digital Highway Addressable Remote Transducer (HART®) protocol. Collectively, these requirements make the design of today's 4­-20 mA current loop quite challenging.
This reference design explains how to develop a 4­-20 mA current-loop transmitter, analyze its performance, and select the components that meet rigorous industrial requirements. Test data for error analysis, overtemperature characterization data, schematics, and analysis software are provided.
Keywords: 4-20 mA current loop transmitter, industrial process control, industrial applications, automation, smart sensors, PLC, HART modem

Download Design Note APP 5610 (271 Kb)
Related datasheets: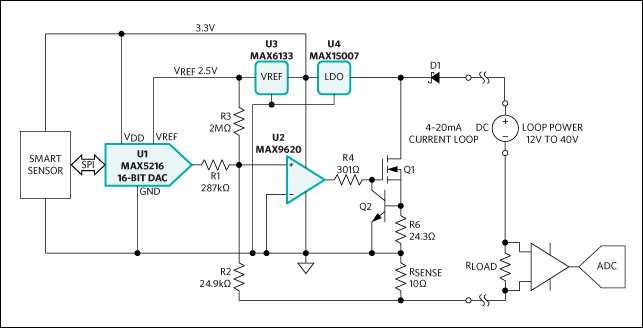 Reference design for a 4–20mA loop-powered transmitter features the MAX5216 16-bit DAC (U1), the MAX9620 op amp (U2), the MAX6133 voltage reference (U3), and the MAX15007 LDO (U4).