Design Note DN530
July 2014
Jesus Rosales, Willie Chan
Linear Technology's isolated µModule converters are compact solutions for breaking ground loops. These converters employ a flyback architecture whose maximum output current varies with input voltage and output voltage. Although their output voltage range is limited to a maximum of 12 V, one can increase the output voltage or the output current range. The solution simply involves connecting the secondary side of two or more isolated µModule converters in series.
The LTM8057 and LTM8058 UL60950-recognized 2 kV AC isolated µModule converters will be used to demonstrate this design approach, which can also be applied to the LTM8046, LTM8047 and LTM8048. Let's assume an output of 10 V at 300 mA is desired from a 20 V input. Reviewing the maximum output current curve, we notice that a single LTM8057 is insufficient to meet the output current requirement under these conditions.
However, upon noticing that a single LTM8057 can deliver 300 mA at 5 V from a 20 V input, a solution becomes apparent. Since the output voltage is isolated from the input, the outputs of two LTM8057s set at 5 V can be connected in series to achieve a 10 V output at 300 mA.

Download Design Note DN530 (172 Kb)
Related datasheets: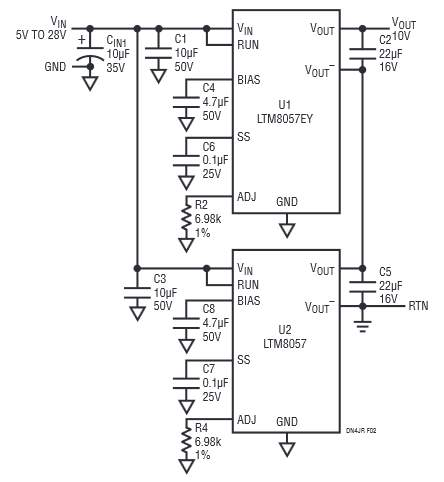 Two LTM8057 Modules with Outputs Connected in Series, Supporting a 10 V, 300 mA Output Application from 20 Vin