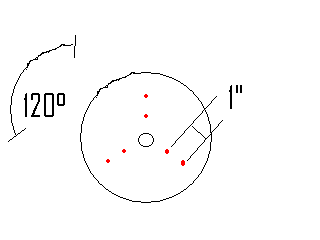 It's a pretty simple idea, but circular sawblades have worked out very well for me as hubs. Be sure and get some sort of rubber covering for the tooth edges and/or file down the edges as best you can, because the last thing you want is a hub of death flying at you if your generator decides to rip apart!
After our holes are cut out and we are confident of our safety procedures, we attach the blades to the hub (note that the hub pictured was cut from scrap steel, more pictures to come later)...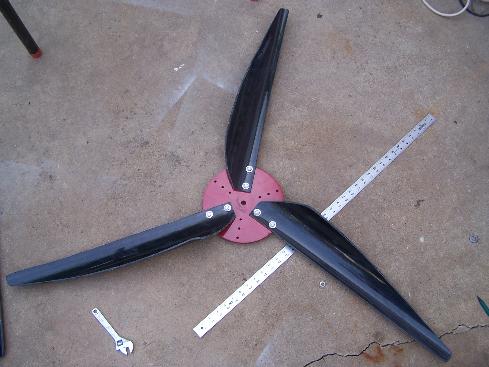 Tail & Pivot Assembly

Now we need to build a spinning platform for our generator motor to rest on. To achieve this, we will use some square tubing, a pipe nipple, flange, and small sheet of steel. Here is my "CAD" draft of what I wanted my tail & pivot assembly to look like, and a real picture of some of the parts I used...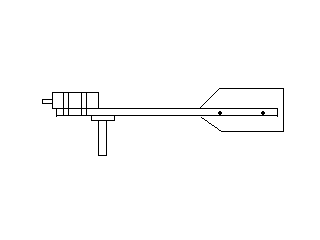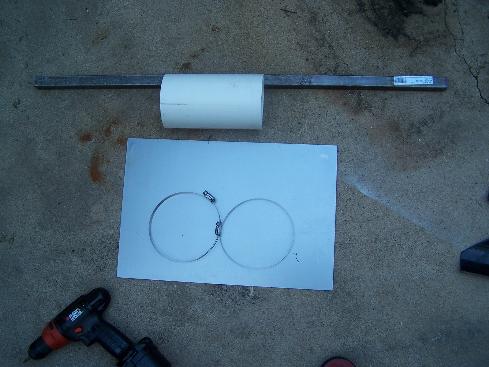 First, I recommend cutting the sheet steel with a jigsaw into a nice design for the the tail (Note: this step is quite unneccessary and ONLY for aesthethic reasons).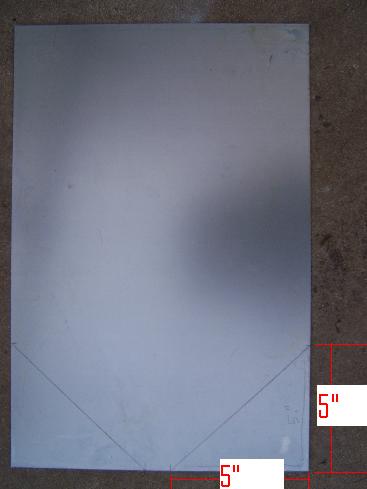 We then want to make a cut down the center of the square tubing. The length of the cut isn't that important, but I recommend about a 9" cut (this will help make balancing easier later on). We may then slide the tail metal into the hole and use the 1/4" drill bit to drill and attach the tail to the square tubing.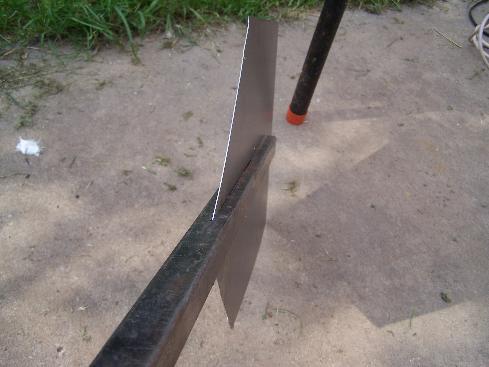 We will then want to cut out a weather covering for our motor. A piece of 4" PVC slips perfectly over the Ametek 30V motor that I use. I cut it out like so (note the side hole for the motor wires).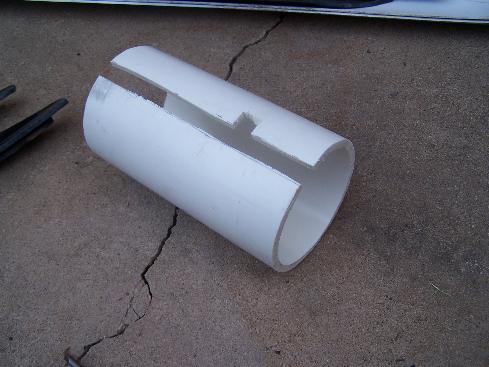 Then we go ahead and paint it all up to seal everything from the elements. I wouldn't recommend painting on your front porch like I did though...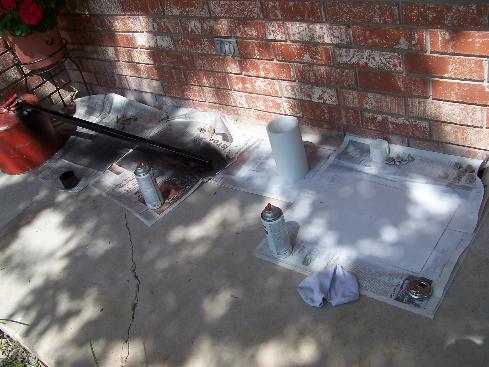 After everything is painted, we can now put it all together. Take the floor flange and put it under the square tubing about 6"-7" from the head. Mark the holes and drill them out with the 7/32" drill bit (or any bit close to but smaller than 1/4"). Attach with the 1/4" sheet metal screws. Use the metal straps to secure the motor and cover assembly, screw on the pipe nipple and you should have something like this...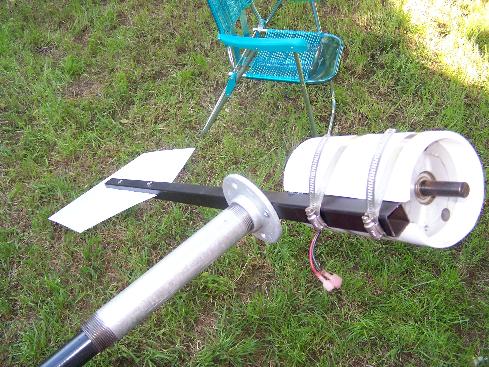 Tower Assembly

Every wind generator needs a tower. I built mine from some pipe fittings from my local hardware store. If you already have an antenna pole or electrical conduit lying around, then you can skip this section. Here is my recommended parts list for a small extensible tower...
(2) 5' Sections 1" Pipe
(1) 1" Pipe Coupling
(3) 1" Pipe Elbows
(4) 18" Pipe Sections
(2) 12" Pipe Sections
The tower base is pretty self-explanatory. Just hook up the elbows and pipe sections to create a base similar to this...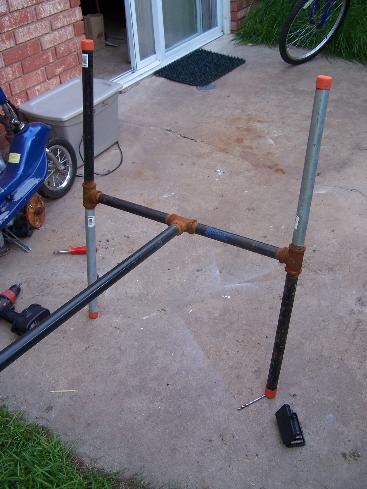 From there we can attach the 2 5' sections of pipe together to form a nice strong mini-tower for our generator to sit atop...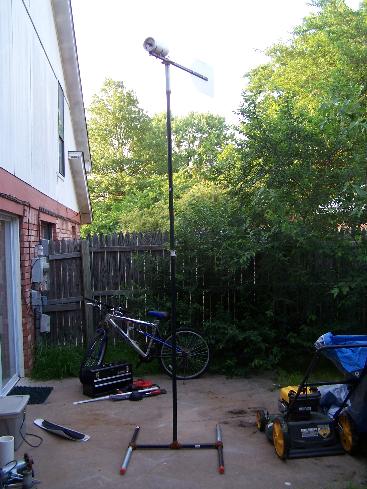 Finished Product
Now we are ready to attach the blades to the motor shaft with the arbor. You will also want to go ahead and attach some wire to the motor and run it to a device to power or a bank of batteries etc...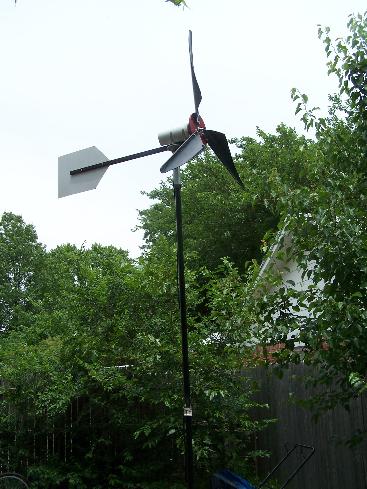 Here is a picture of the experimental design using six blades. It would spin in practically no wind, but would never get past 100RPM. At least it looked interesting!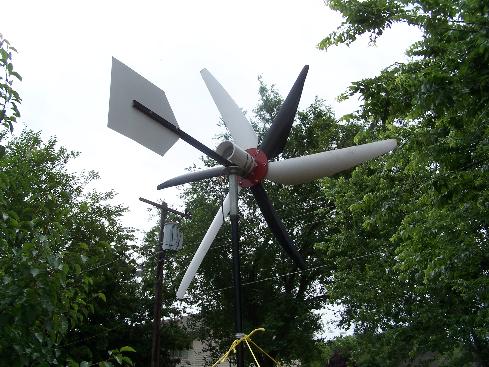 Here is the battery bank I'm feeding into in parallel with solar panels. I am just using two 12V marine deep cycle batteries that can be found at any place that sells car batteries. I keep them in a standard plastic tub with a hole cut in the sides for 12V fans I cannibalized from a couple of old Mac G4s (not pictured). Be sure and put a diode between the battery and the generator so that current doesn't flow from the battery to the motor.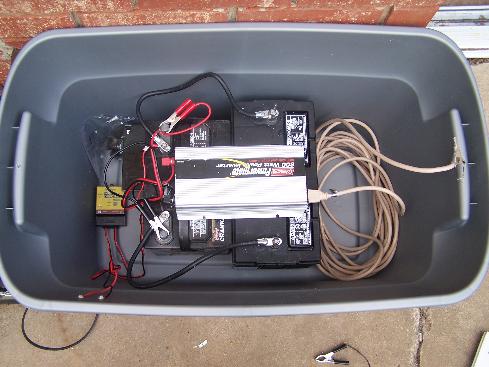 It turns out, cutting the blades a little thinner works better for my area. So I used the large white blades from the previous picture and thinned them out a bit. This resulted in the fastest shaft speeds as seen in first video at the top of this page.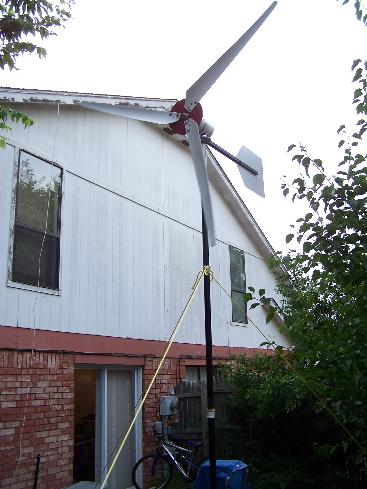 Not too bad for a 22 year old kid from Oklahoma eh? Please feel free to use my contact form if you have any questions, and of course I will gladly welcome your feedback positive or negative.