Dinesh Gaijar
Project Details:
RF Measurement has been an expensive work so far the cost f measuring instruments are concerned.
Although, the other project, PM2, is hot favorite among radio amateurs for RF Measurement, I wanted something smaller & more economical for measurement of RF Signals.
In this project a quality Double Sided PTH Board is used measuring only 3cm x 10cm in size. Same good old AD8307 from Analog Devices is used (DIP Package) for basic RF measurement up to 500MHZ. However instead of using a PIC and LCD, I am using a simple LM3914 Bar Graph IC for display of db levels.
Meter may be powered from a 9V battery or external 12V DC adapter. A built-in 78L05 regulator is used to power AD8307.
LEDs may be either round or square. Preferably, of varied colors.
Header H1 is for changing the LED display from Bar Graph to "Dot", if you wish to have like that.
Preset, RV1 is available for calibration of measured signal to display LEDs.
Schematic of the simple AD8307 RF Meter: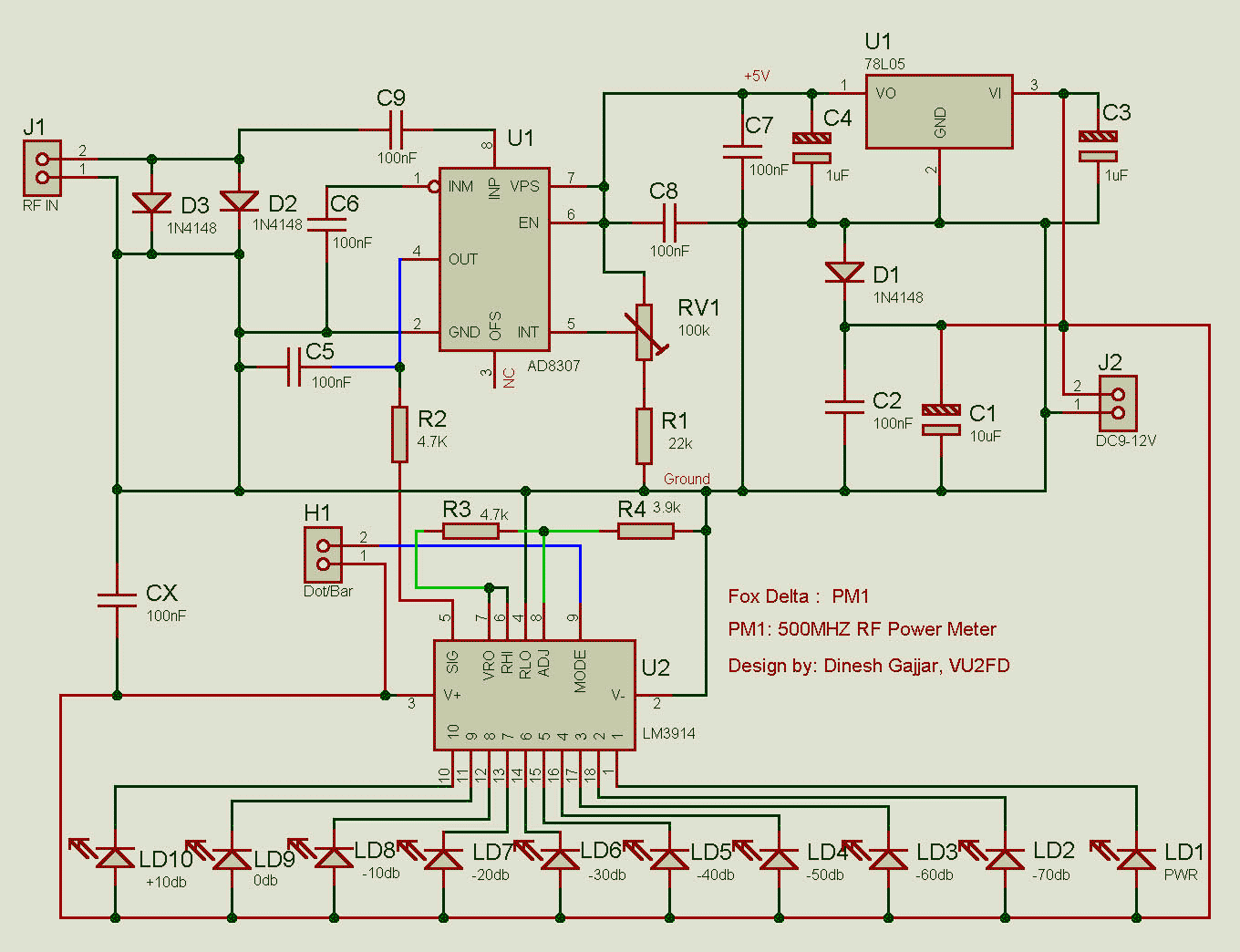 Click to enlarge
Silk Snap of the RF Meter:

Kit Parts List:
| | |
| --- | --- |
| Quantity | Part Name/Details |
| 1 | IC Socket 18Pin |
| 1 | IC Socket 8pin |
| 1 | LM3914 |
| 1 | 78L05 |
| 1 | BNC R/A Socket |
| 1 | DC connector |
| 10 | 3mm LED |
| 1 | 100K Preset |
| 1 | PCB |
| 5 | 0.1 uf |
| 2 | 1uf Tantalum |
| 1 | 0.001 uf |
| 1 | 10uf Electro |
| 3 | 1N4148 |
| 4 | Resistors as per schematic |