You can improve a capacitive-sensor circuit with a modulator and an RF transmitter (Reference 1) by modifying the modulator portion to obtain better accuracy. More improvements result from adding a "negatron" circuit, a configuration that uses equivalent negative capacitance. Reference 2 gives some insight into the uses of negative impedance. The circuit in Figure 1 works with the RF transmitter of Reference 1 (Figure 2) as follows: The modulator uses op amp IC1 in a standard flip-flop configuration (with the addition of the bias resistor R4, because of single-supply operation). The negatron portion of the circuit uses op amp IC2. The output frequency, f, of the modulator without the negatron is a function of the time constant
Figure 1.
The modulator portion provides improved performance over the circuit in Reference 1;
the negatron increases sensitivity and resolution.

Thus, the frequency is a function of the physical value of the input (for example, pressure or humidity). The potential accuracy and stability of the modulator in Figure 1 are greater than those of the modulator in Reference 1 because of the low input capacitance and temperature coefficient of the LT1124 op amp and the high stability of the R4-R6 voltage threshold.
Figure 2.
This simple transmitter from Reference 1 allows you to remotely measure physical phenomena.
Adding the negatron portion in Figure 1 increases the relative sensitivity of the frequency modulator. The equivalent capacitance of the negatron is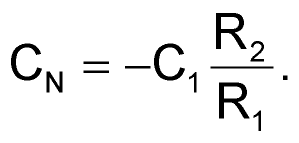 Assuming the physical value of the input causes the change ΔC (compared with the sensor's initial capacitance, C0), the relative output-frequency change without the negatron (for small ΔC) is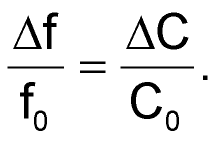 With the negatron added, the equation is: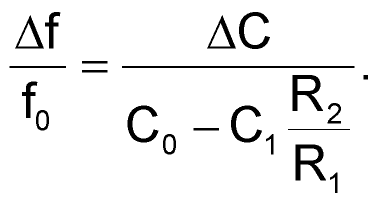 The result is higher relative sensitivity because of the reduction in the denominator value. The value of CN is approximately –100 pF for the circuit in Figure 1. In other words, a given change in the input value causes a greater relative-frequency deviation. Note that adding the negatron changes the equivalent time constant:

You can make value adjustments in R3 to obtain the desired initial frequency, f0. Also, note that the measured values of f0 and Δf may differ from the calculated ones because of parasitics and the input capacitance of the op amp.
References
Belousov, Alexander, "Negative impedance improves capacitive sensors," EDN, March 30, 1995, pg 82.
Materials on the topic