Atmel SAM3S16 with Cortex-M3 MCU achieves industry's lowest dynamic power consumption with 30mA @ 100MHz operation
Atmel Corporation, a leader in microcontroller and touch technology solutions, today announced early sampling of its 32-bit ARM Cortex -M3-based microcontrollers (MCUs) with 1MB embedded Flash and 128KB SRAM. The new Atmel SAM3S16 Cortex-M3 MCU offers high performance, low power and large memory density for applications demanding modern user interfaces including capacitive touch, increased data processing and connectivity. Target applications include medical equipment, building and home control, industrial automation, Machine-to-Machine (M2M), test and measurement, smart grid, and data input/output peripherals for consumer and computing devices.

The Atmel SAM3S16 Cortex-M3 MCU is a member of the Atmel ARM-based family of over 100 products shipping in volume. The new device is pin-to-pin compatible with existing Atmel SAM3N and SAM3S Cortex-M3 MCUs, and also supports In System Programming and development tools from Atmel and third party ecosystem partners. The device operates at a maximum speed of 100MHz with 1024KB Flash and 128KB SRAM and includes a full peripheral set, featuring full-speed USB, high-speed MCI for SDIO/SD/MMC, 4 UART, TWIs, SPI, I2S and an external bus interface supporting PSRAM, NOR Flash, LCD Modules and NAND Flash.
"The SAM3S16 is further evidence that Atmel is a leader in microcontrollers and brings innovative and easy-to-use ARM-based products to market, addressing the need for higher performance, additional memory density and lower power," said Jacko Wilbrink, director of ARM marketing, Atmel Corporation. "Using 90nm embedded Flash technology enables Atmel to integrate 1MB of Flash, 128KB of SRAM and extensive peripheral set on a monolithic Cortex-M3 microcontroller running up to 100MHz."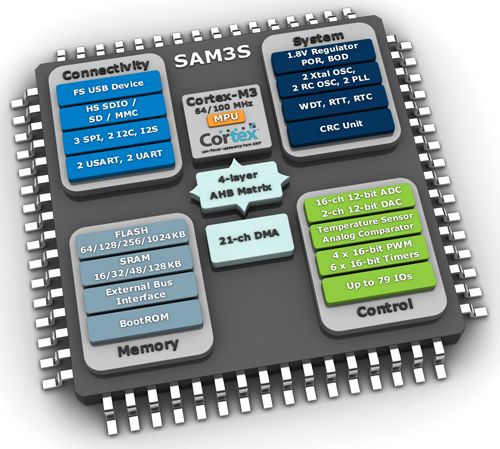 Key Features
Simplified System Design and Low System Cost
Integrated serial resistors eliminate the need for external resistors to preserve signal integrity, resulting in reduced BOM cost, real estate savings and simplified system design.
The SAM3S is the first ARM MCU with parallel data capture mode on PIOs and DMA support. The parallel data capture mode on the PIOs complements the external bus interface for data collection from external devices that are not compliant with standard memory read protocols, such as low-cost image sensors.
Atmel QTouch Capacitive Touch Support
The SAM3S series is touch-ready, offering native support for Atmel QTouch® technology for easy implementation of buttons, sliders and wheels in your application.
Memory protection unit improves code protection and secures multi-application/task execution. Unique 128-bit ID and scrambled external bus interface ensure software confidentiality while the hardware CRC checks memory integrity.
As a leader in capacitive touch sensing, Atmel supports capacitive touch buttons, slider and wheel (BSW) capability on the Atmel SAM3S16 Cortex-M3 MCUs through the Atmel QTouch library. The SAM3S16 operates from 1.62V to 3.6V and can achieve 200 uA/Mhz in dynamic mode at a low operating frequency; 30mA at 100MHz; and 3uA at 1.8 V in back-up mode with the RTC (real-time clock) running.