FZLED, the market-leading maker of LED lighting products, today revealed an impressive new range of 12-Watt LED Bulbs, each harnessing the power of seven long-lifetime high-power Cree LEDs.The PAR30-03 series offers both switch dimmable and TriAC dimmable options. It's a simple money-saving replacement for inefficient older lights in E26/E27 sockets. FZLED's PAR30-03 stands out from the crowd with universal compatibility and options for every customer.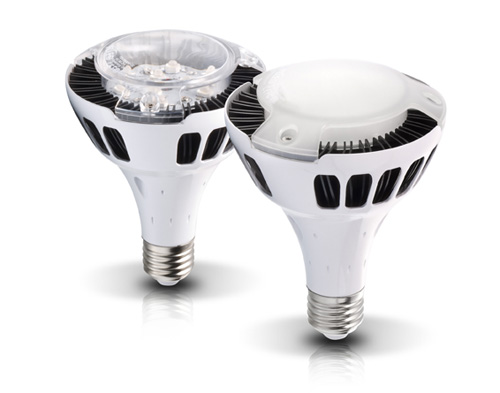 FZLED puts lighting control back into the hands of the customer. Users of switch dimmable models can easily select a desired brightness level by pressing the power on/off switch to step through the four options: 12%, 25%, 50%, or 100% of full light intensity. The TriAC dimmable version offers both low-voltage (AC 100-120V) and high-voltage (AC 220-240V) TriAC dimming. A non-dimmable version is also available.
Other options include a clear or frosted cover. The frosted cover provides a beam angle of 120°, while the clear cover offers selectable beam angles of 60°, 40° and 25°, making the PAR30-03 series the most versatile choice for all indoor, architectural, mood and flood lighting applications. These bulbs can also accept a wide range of input voltages, from 100 to 240 volts. Even in tough electrical environments, safety and product life are assured with overcurrent protection
FZLED's PAR30-03 series is the clear lighting choice for all indoor applications, with its choice of both a warm white (FZL-PAR30-03-WW-12) and a cool white (FZL-PAR30-03-CW-12) version. The WW-12's warm 3000K illumination provides 750lm with a Color Rendering Index (CRI) of more than 80, while the CW-12 achieves 850lm with its bright 6000K beam.
Building on FZLED's reputation for quality, these new LED bulbs give users a high-brightness lighting solution that's also energy-saving and environmentally-friendly. Thanks to their ultra-low-maintenance 50,000 hour Cree LEDS and durable, stylish aluminum and plastic housings, FZLED's latest LED bulbs are clearly built to outlast the competition, even as they conserve energy.
With electrical efficiency greater than 80%, an impressive energy-to-light ratio, and a thermally-optimal design, FZLED is excited to bring consumers the best interior lighting solution available on the market today.
Applications:
Indoor Lighting
Architectural Lighting
Mood Lighting
Flood Lighting
Biological Lighting
Simple E26/E27 socket replacement
Features:
Energy Saving
Long life, greater than 50000 hours (L70)
Dimming or non-dimming
Overcurrent protection
No heat, No UV, or IR light radiation
CRI better than 75 for white light
Compatible with E26/E27 sockets
Power consumption up to 12W
High power driver efficiency > 80%
CE, FCC and ETL Approved
Specifications of the FZLED PAR30-03 LED spotlight series:
Dimming Functionality – switch dimmable or TriAC dimmable or non-dimmable
Power Consumption – 12W (±10%)
Input Voltage – AC 100-240V
Socket – E26/E27
CCT– 3000K (WW) or 6000K (CW)
Luminous Flux (lm) – 750 (±10%) with 3000K or 850 (±10%) with 6000K
CRI – Greater than 80 (greater than 75 with 6000K CCT model)
Operation Temperature – -20℃ to 40℃
Beam Angle – 120° with Frosted lens and Clear lens, 60° / 40° / 25° with Clear lens
Dimensions – D98 X 130 (mm)
Net. Weight – 0.25 (Kgs)