NXP Semiconductors introduced the TEF7006 and TEF7007, its next-generation high-performance FM car radio receivers for background scanning and data services. These receivers are able to decode data from Radio Data Systems (RDS), Radio Broadcast Data System (RBDS) and Traffic Message Channel (TMC) services to offer unique infotainment and radio station data to consumers. Designed specifically for the automotive market, the TEF7006 and TEF7007 deliver higher performance compared to alternative automotive solutions based on consumer or mobile designs.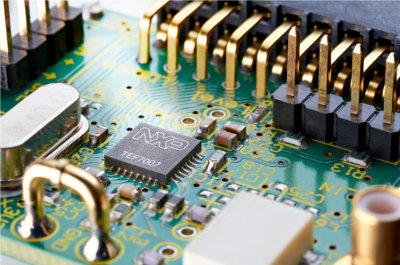 Built on NXP's market-leading technologies in low-IF tuners, car DSPs and digitally processed RDS demodulation and decoding technology, the new FM receivers enable a rich infotainment experience, delivering automotive-qualified performance in a compact, low-cost design. The devices cover a broad band spectrum from 76 to 108 MHz, used across Europe, Japan and the US. The receivers and are available in a thin leadless HVQFN plastic package with a body size of 5 × 5 × 0.85-mm, requiring minimal external components.
The TEF700x can be used in conjunction with NXP's digital low-IF car Digital Signal Processing (DSP) systems for radio/audio applications. The reception quality and performance are similar to that of the main tuner, and therefore optimized for background receiver functions.
Both devices can also operate as standalone TMC receivers in navigation units or be used in Traffic Information Messages (TIM) applications. The TEF7007 also adds an integrated FM antenna buffer to simplify the development of systems that require buffering.
The TEF7006 and TEF7007 are currently available for purchase.