ADI's ADXL362 MEMS accelerometer enables wireless sensor networks, wearable motion detectors and other portable systems to significantly extend battery life.
Analog Devices introduced the industry's lowest power MEMS accelerometer. The ADXL362, 3-axis, digital MEMS accelerometer operates at 300 nA in motion sensing wake-up mode, consuming 60 percent less current than the closest competing sensor in the same mode. In full measurement mode, the ADXL362 uses 2 μA at a 100 Hz data rate, using 80 percent less power than competing MEMS accelerometers operating at the same frequency. This extremely low power consumption allows the ADXL362 to be used in applications that require battery life expectancy of months or years, and where battery replacement can be impractical or dangerous to the equipment or operator.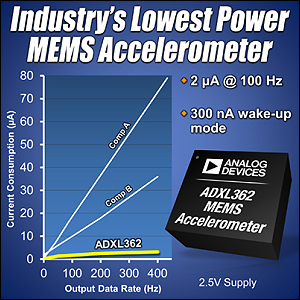 ADXL362 MEMS Accelerometer Enables System-Level Power Savings
In addition to its native low-power operation, the ADXL362 MEMS accelerometer has additional key features that enable system-level power efficiency. The ADXL362 can be used as part of an intelligent, continuously operational, motion-activated switch. Equipped with an Awake Status output pin, the motion sensor can instantly trigger a switch that turns on system functions, bypassing the processor, to further reduce system power.
"Designing for low power requires more than low current draw at the component level, it also means intelligently managing total system power by turning system functions on and off at precisely the correct time," said Bill Murphy, product line director, MEMS/Sensors group, Analog Devices. "The ADXL362 leads the industry in this respect, enabling applications ranging from healthcare to infrastructure monitoring, where battery life is absolutely critical."
The ADXL362 also integrates an enhanced, sample activity detection function that accurately distinguishes between different kinds of motion. This eliminates false positives and prevents the sensor from turning the system on unnecessarily and costing additional battery life. The ADXL362 MEMS accelerometer embeds a deep internal FIFO memory block that allows system designers to record data and stream long data sets, reducing processor load and saving additional system power.
DARPA Blast Gauge Impact Detection System Incorporates ADI MEMS Technology
The ADXL362 is planned for implementation into the second generation of DARPA's Blast Gauge, which was developed at Rochester Institute of Technology and commercialized by BlackBox Biometrics to protect U.S. Armed Forces personnel. The Blast Gauge serves as both a screening tool for medical personnel performing triage on individuals exposed to a blast and provides detailed data for the research community unlocking the causes of Traumatic Brain Injury (TBI.) The initial generation of the blast gauge used ADI's ADXL345 sensor and has been deployed for a year on thousands of U.S. soldiers in Afghanistan.
"Using ADI's high-performance MEMS sensors, the Blast Gauge has proven to reliably detect concussive forces experienced by the men and women of our Armed Forces. The ADXL362 will significantly extend battery life in these sealed devices which utilize a non-rechargeable battery," said David Borkholder, chief technology officer of BlackBox Biometrics.
More About the ADXL362 Digital MEMS Accelerometer
Additional features of the ADXL362 digital MEMS accelerometer include two lower-noise modes that allow the user to roughly halve the noise at the expense of a few microamps (μA); a built-in micro-power temperature sensor; and the ability to synchronize the sampling time to an external trigger. The ADXL362 natively provides acceleration data with 12-bit resolution, as well as 8-bit formatted data for more efficient single-byte transfers when a lower resolution is sufficient. The accelerometer has measurement ranges of ±2 g, ±4 g, and ±8 g, with a resolution of 1 mg/LSB on the ±2 g range.