209kW installation is largest PV system in the country
Kyocera Corporation along with Marubeni Corporation and Wakachiku Construction Co., Ltd. announced that the companies have supplied a solar power generating system to the Majuro Hospital in the Republic of the Marshall Islands, a part of Micronesia. The 208.98kW solar installation will generate approximately 257MWh of annual electricity, which will help to offset roughly 81 tons of CO2 emissions per year. The system is comprised of 972 Kyocera 215-watt solar modules, which have enhanced support bars to strengthen wind pressure resistance, as the island nation experiences strong trade winds.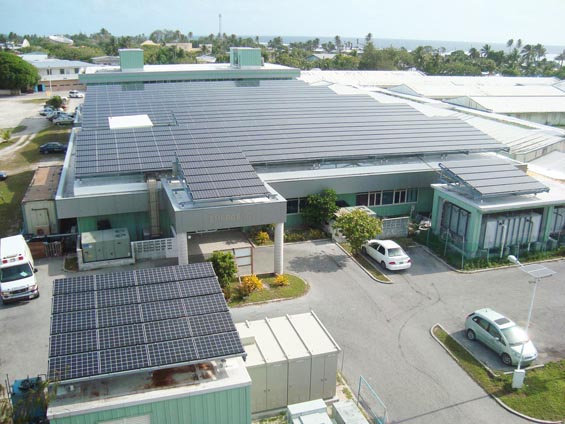 209kW Kyocera solar power generating system at Majuro Hospital in the Marshall Islands
This project is being funded by the Japanese government's Official Development Assistance (ODA) to support the reduction of carbon emissions by utilizing renewable energy resources as an alternative to diesel electric power generation.
Kyocera began supplying solar modules to developing countries in 1984 as part of the Japanese government's ODA project. Since then, it has been involved in approximately 40 ODA projects and has supplied a total of more than 3 megawatts of solar power generating systems to countries in Asia and Africa.
In 1992 and 1996, ice machines that utilize Kyocera's solar power generations were installed in the Marshall Islands for use in preserving the fishing industry's catches. The 209kW installation at Majuro Hospital is Kyocera's third project in the country. Kyocera remains committed to help solve global environmental issues including efforts to reduce carbon emissions.
System overview

972 solar modules (215-watt modules)

22 junction boxes, 5 collecting boxes, 3 power conditioners, display board

Participating

organizations

Facility owner: Republic of the Marshall Islands

Consulting: Yachiyo Engineering Co., Ltd.; ICONS Inc.; Shikoku Electric Power Co., Inc.

Trading company: Marubeni Corporation

Equipment supply, engineering, construction: Kyocera Corporation; Wakachiku Construction Co., Ltd.
* Based on calculations derived from standards created by the Japan Photovoltaic Energy Association (JPEA)