Analog Devices introduced the industry's first fully isolated A/D converter designed for polyphase energy metering applications. The ADE7913 3-channel, sigma-delta A/D converter incorporates Analog Devices' patented iCoupler and isoPower technologies to implement isolated signal transfer and dc-to-dc power conversion across a 5kV-rated insulation barrier. This enables the use of shunt resistor sensing elements instead of current transformers (CTs), thereby providing immunity to magnetic field interference and tampering. The use of shunts instead of CTs also reduces system cost and size.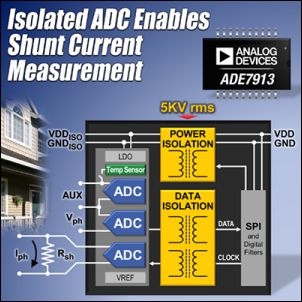 "In the past, polyphase meter manufacturers had to decide between CT-based architectures vulnerable to external magnetic fields, or discrete component shunt-based architectures involving excessive complexity and functionality compromises," said Ronn Kliger, director for the Energy Group, Analog Devices. "Now, with an integrated component incorporating synchronized A/D conversion and galvanic isolation, our customers can develop feature-rich, cost-effective metrology solutions that are completely immune to magnetic interference."
ADE7913 Energy Metering IC Key Features
Three 24-bit isolated A/D converters: one current channel and two voltage channels
Integrated isoPower isolated dc-to-dc converter
Up to four ADE7913 energy metering ICs synchronously clocked from a single crystal or an external clock
On-chip temperature sensor
Integrated voltage reference and voltage regulator
SPI serial interface
Pricing and Availability
Product

Sample
Availability

Channels

Price Each
in 1,000 Quantities

Package

Now

1 current channel and
2 voltage channels

$5.71

20-lead wide body SOIC package
with greater than 8 mm
clearance and creepage

Now

1 current channel and
1 voltage channel

$5.42

20-lead wide body SOIC package
with greater than 8 mm
clearance and creepage
The EVAL-ADE7913EBZ evaluation board for the ADE7913 is now available and priced at $350.00.
ADI also recently announced an isolated metrology chipset designed for polyphase energy metering applications that provides state-of-the-art 3-phase metrology measurements and power quality monitoring. Learn about the new ADE7978 energy metering chipset.

analog.com