Densitron offers a wide range of Mono OLED displays, covering screen sizes from 0.66" to 5.5". Comprehensive technical support on this range is available to design engineers.
Densitron's Mono OLEDs come with all the renowned benefits associated with OLED displays, including thin profile and low power consumption. Specifically, displays in the range have up to 150,000 hours half life time at 80cd/m2, 170° wide viewing angle, 2000:1contrast ratio, an operating temperature range of -40°C~80°C and provide industrial interfaces, such as 8 bit, 3 or 4 wire SPI and I2C. Some of the Mono OLEDs are based on SSD1306 driver IC with inbuilt DC/DC circuit, helping to minimise current consumption and BOM cost.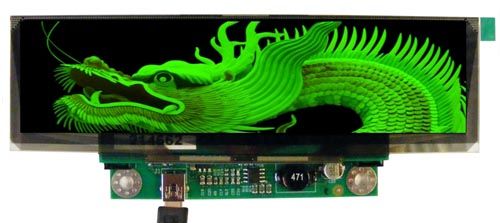 OLED displays in the range are ideal for a wide variety of applications, ranging from instrumentation and industrial equipment in general to DAB radio and Point-of-Sale systems. Custom display colours are available to meet specific design requirements.
Samples and supporting evaluation kits for Mono OLED displays are now in stock. Densitron's proprietary evaluation kit allows quick import of menu structured bit maps directly from a PC to the display. This user-friendly kit also provides direct access to the display registers, enabling real-time modifications to the display properties. Only a USB cable, which is included in the package, is required for powering and interfacing with the kit. Working example codes can be supplied to help design engineers kick start the development cycle, and support on hardware checks and code debugging are provided at the initialization stage.