WIN Enterprises announces the WIN SoNIC network acceleration board. WIN SoNIC is an instantiation of the Intel platform for communications infrastructure, formerly codenamed "Crystal Forest."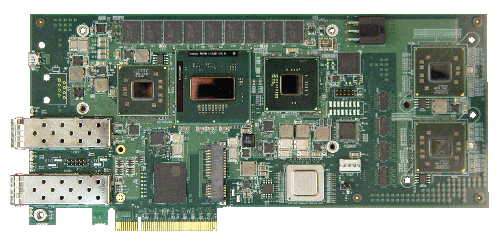 Features
Supports the Intel Communications Chipset 89xx series with Intel QuickAssist technology
Supports dual 10 GbE optical LAN with modular expansion to 100 GbE
The WIN SoNIC (System-on-NIC) uses software from Wind River and other Intel Intelligent Systems Alliance members to consolidate network workloads through integrated data preprocessing, deep packet inspection, crypto acceleration, and dual 10 GbE optical LAN capabilities which will be expandable to 100 GbE.
WIN SoNIC is a standard half-length PCIe card that connects to network servers through a PCIe slot to enable significant performance improvements in broadband networking. In addition, a consistent platform is provided that is easier to maintain and upgrade as broadband networking requirements inevitably increase.
The Intel platform for communications infrastructure and WIN SoNIC board consolidate key networking workloads to enable faster, more efficient processing in the Application, Control and Packet/Content planes of the network. WIN SoNIC supports the 32nm Intel Xeon processor E3-1125 or Intel Core processor i3-2115 with 2 or 4 cores and HyperThreading Technology.
The Intel Communications Chipset 89xx series supports the preprocessor. This versatile chipset integrates Intel® QuickAssist Technology to accelerate cryptographic, data compression, and pattern matching services. WIN SoNIC provides the OEM with a range of SFP-based I/O options for SFP+ optical port connectivity through PCIe x8.
Software
The Intel Data Plane Development Kit (Intel DPDK) helps speed the OEM's time-to-market by enabling the rapid development of mid-ware or layered software for server platforms based on the Intel platform for communications infrastructure. It is also used to port applications such as deep-packet inspection to Intel architecture-based platforms like WIN SoNIC.
Wind River offers the WindRiver Linux developed with the Intel DPDK. This software is highly optimized for multi-core environments to deliver maximum data throughput and packet processing intelligence. WIN SoNIC can be used with the Wind River Linux , plus software developed by 6WIND, Radisys, and Tieto Corporation, specifically for the Intel platform.