Touchstone Semiconductor announced the new TS7003, a single-supply, single-channel, 12-bit analog-to-digital converter (ADC) – the first ADC in Touchstone's data converter product portfolio.
The TS7003 combines a 10-MHz track-and-hold (T/H), a high-speed serial digital interface, and an internal ±0.6%-initial accuracy +2.5V, 30ppm/°C reference into a very small 3mm × 3mm TDFN package. At $0.95 each in 1,000-piece quantities, the TS7003 is the industry's first 12-bit SAR ADC that costs less than $1. Operating from +2.7V to +3.6V supplies, it consumes less than 2.8mW when converting at 300ksps.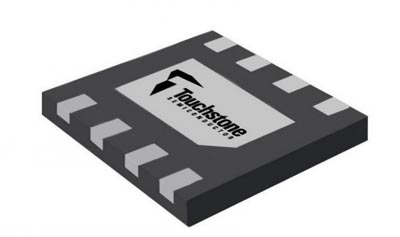 The TS7003's three-wire serial interface connects directly to any microcontroller or other interface-compatible computing device. The ADC is easy to use and doesn't require separate, external logic. An external serial-interface clock gives the system designer full control over the TS7003's conversion process and its output shift register operation.
The TS7003 is suitable for PCB-space-conscious, low-power, remote-sensor and data-acquisition applications because of its low power, ease of use, and small package footprint. Product applications include process control and factory automation, data and low-frequency signal acquisition, portable data logging, pen digitizers and tablet computers, medical instrumentation and battery-powered instruments.
Key Specifications
Pin-Compatible, Single-Channel Higher-Speed Upgrade to MAX1286
Single-Supply Operation: +2.7V to +3.6V
DNL & INL: ±1LSB (max)
300ksps Sampling Rate
Low Conversion-Mode Supply Current: 0.95mA @ 300ksps
Low Supply Current in Shutdown: 0.2µA
Internal 10-MHz Track-and-Hold
An Internal ±0.6% initial accuracy +2.5V Reference
SPI/QSPI/MICROWIRE 3-Wire Serial-Interface
8-Pin, 3mm × 3mm TDFN-EP Package
To facilitate easily the dynamic performance evaluation of the TS7003 SAR ADC, Touchstone Semi offers a plug-and-play FFT data acquisition/capture kit – the TSDA-VB kit – available from Digi-Key for $175 each (Please reference TSDA-VB-Kit-ND). The kit's straight-forward, easy-to-use GUI makes data capture to the TS7003DB or any other Touchstone Semi data converter product demo board quick and easy.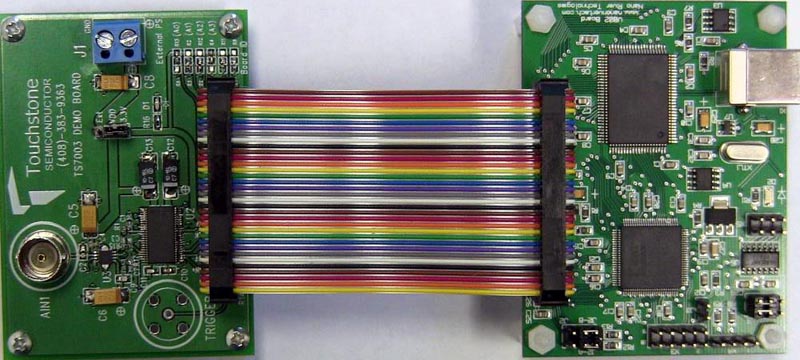 Availability
Priced at $0.95 for 1K, the single-channel TS7003 costs $3 less than the pin-compatible Maxim MAX1286, and operates at a higher throughput speed than the MAX1286 by a factor of 2. It is fully specified over the –40°C to +85°C temperature range and is available in a low-profile, 8-pin 3×3mm TDFN package with an exposed back-side paddle. The TS7003 is in stock and ready to ship from Touchstone's distributors, Digi-Key and Future Electronics.