Drive-on-a-Chip Reference Designs, Software and IP, and Hardware Development Boards Are Included in Scalable, FPGA-Based Motor Control Design Platform.
Altera Corporation announced a new Motor Control Development Framework that delivers unprecedented system integration, scalable performance and flexibility, while at the same time significantly reducing development time and risks for motor control system designs. The framework includes a set of customizable, single and multiaxis drive-on-a-chip reference designs and a portfolio of motor control hardware development boards, coupled with a system and software design methodology, to support the diverse requirements of next-generation drive systems.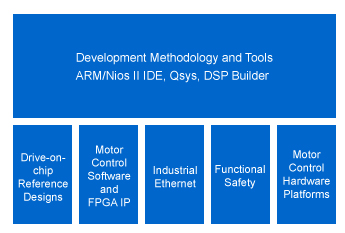 The framework exploits the digital signal processing (DSP) hardware and soft embedded CPU capability in Altera Cyclone IV and Cyclone V FPGAs, as well as the dual ARM Cortex-A9 MPCore processors in the Hard Processor Subsystem (HPS) of Altera's Cyclone V SoC FPGAs to provide flexible and optimal hardware/software partitioning that helps designers meet their specific end-application performance needs.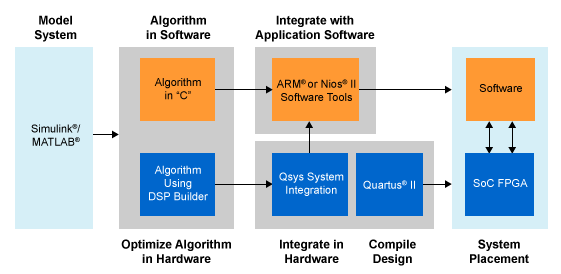 The Motor Control Development Framework maximizes designer productivity by providing a system-level development environment, allowing designers to use high-level software algorithms for system management. The framework supports a model-based design methodology in MATLAB/Simulink for the development of DSP-intensive motor control loops, such as those found in field-oriented control implementations. Optimal mapping to coprocessors in the FPGA and seamless integration with software running on integrated processors is achieved through Altera's DSP Builder and Qsys system-level design tools.
Availability
The Altera Motor Control Development Framework will be available in December 2012.