The newly-developed earphone jack
SMK Corp developed a 3.5mm-diameter waterproof earphone jack for mobile devices such as smartphones and released it.
The earphone jack, "LGY2109-3900F," has a structure that prevents water from entering the inside of the jack from the opening into which a plug is inserted. Also, the company used an O-shaped ring (ring-like gasket) between the jack and the case of a device.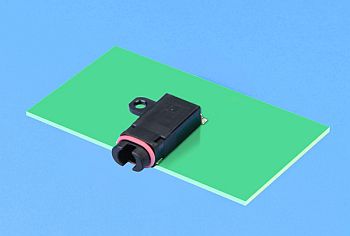 As a result, it realized waterproof capability that complies with IPX7 standards, which are defined by JIS (Japanese Industrial Standards). A device that complies with IPX7 is not damaged even when it is immersed in water to a depth of 1m for 30 minutes. There are many mobile phones and smartphones that meet IPX7 and IPX5 requirements.
The earphone jack is a surface-mounted type and can be mounted on flexible printed circuit (FPC) boards, etc. In addition to the right and left audio channels and GND (ground), one more signal can be transmitted.
The rated voltage and current of the jack are 5V and 0.5A, respectively. Its contact resistance is 50mΩ or lower. Its dielectric resistance is 100MΩ or higher with a voltage of DC500V. Its withstand voltage is AC100V (one minute) or AC200V (one minute). And its operating temperature range is -30 to +70°C.