120 New Products with Large Embedded RAM will be Added to One of the Most Versatile Microcontroller Platforms the Industry has Ever Seen and will Target Network, Industrial and Smart Metering Applications.
Renesas Electronics announced the expansion of its 32-bit RX microcontroller (MCU) platform. It is introducing 120 new models, expanding the successful RX631 and RX63N product groups within the RX600 series of 32-bit MCUs.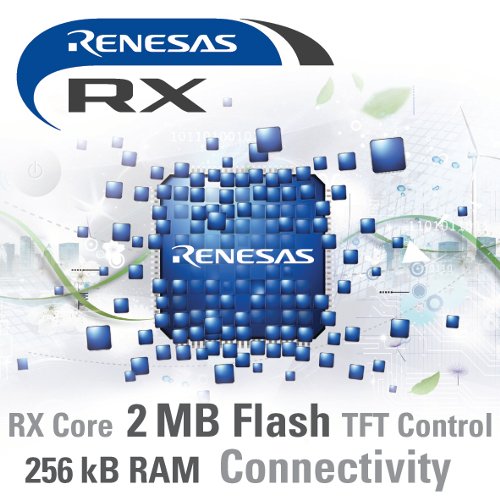 These new RX63N/RX631 groups, for use in network equipment, are offering up to 256 KB embedded RAM, doubling the today's available RAM size of 128 KB. Due to the RX platform concept, these new products are pin-to-pin compatible with existing models, and therefore recommended as a drop-in replacement for customers with larger RAM requirements.
The new RX63N/RX631 groups achieve high performance of 165 DMIPS at 100 MHz CPU and flash operation. The new products offer a wide and scalable product extension from 1 MB to 2 MB flash integration by keeping 256 KB RAM for all of these product variations. The package type is LQFP package, allowing Renesas to provide products appropriate for a wide variety of embedded equipment supporting 100-pin to 176-pin.
As a new feature, these RX63N/RX631 models integrate an optional Data Encryption Unit (DEU) which enables customers to use encryption/decryption functions according to the AES standard (128, 192 and 256-bit key length).
The other features are same as existing RX63N/RX631 groups up to three channels of CAN 2.0B, two USB full speed hosts, USB OTG and an Ethernet MAC IEEE 802.3 interface, compliant with Media Independent Interface (MII) and Reduced Media Independent Interface (RMII), for easy connection to a PHY (RX63N only).
The RX63N/RX631 groups of MCUs (without 64 and 48-pin packages) also include an EXDMAC unit that can transfer data over an external bus independently of the internal bus occupation. This allows these MCUs to easily support TFT solutions for up to QVGA or WQVGA class TFT panels, even if there is no dedicated LCD controller used in the application.
For the development environment, Renesas Electronics provides two emulator products: the low-cost E1 Emulator, which also functions as a flash programmer, and the high-functionality E20 Emulator, which includes trace, RAM monitoring, and other advanced functions.
The new RX63N/RX631 devices with 256 KB RAM will be available by December 2013 in mass production. However, customers can begin development today by using the RX63N Renesas Starter Kit with 2 MB Flash and 128 KB RAM version mounted, which are available now.