Touchstone Semiconductor announced that it has expanded its micropower family of timer IC. The TS3004 is a single-supply device fully specified to operate over a supply voltage range of 1.55V to 5.25V while consuming 1.9μA supply current. Requiring only a resistor to set the base output frequency (or output period) at 25kHz (or 40µs) with a 50% duty cycle, the TS3004 timer/oscillator is compact, easy-to-use, and versatile. Optimized for ultra-long life, low frequency, battery-powered/portable applications, the TS3004 joins the TS3001, TS3002, TS3003, TS3005, and TS3006 in Touchstone's CMOS timer family.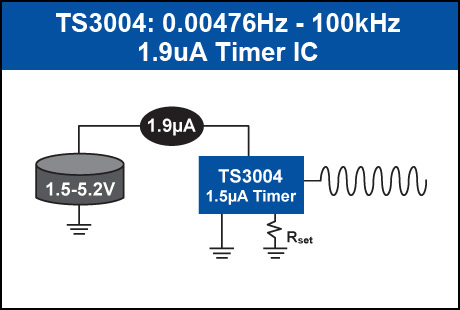 The TS3004 output period can be user-adjusted from 0.005Hz-100kHz without additional components. In addition, the TS3004 represents a 25% reduction in pcb area and a factor-of-10 lower power consumption over other CMOS-based integrated circuit oscillators/timers. When compared against industry-standard 555-timer-based products, the TS3004 offers up to 84% reduction in pcb area and over three orders of magnitude lower power consumption.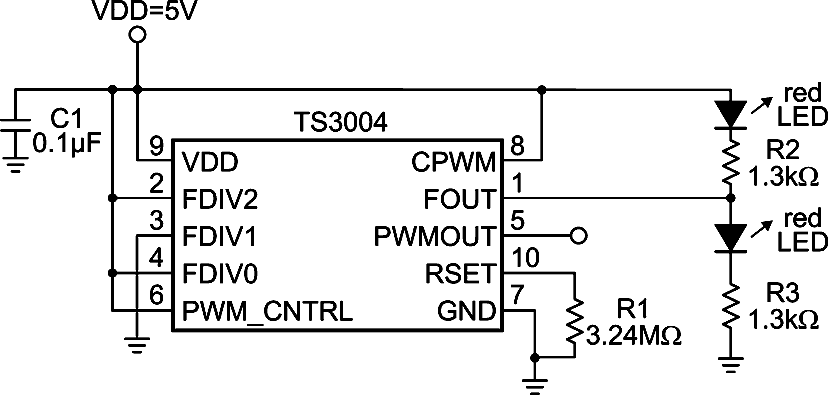 Typical Application Circuit
APPLICATIONS
Portable and Battery-Powered Equipment
Low Parts Count Micropower Oscillator
Compact Micropower Replacement for Crystal and Ceramic Oscillators
Micropower Pulse-width Modulation Control
Micropower Pulse-position Modulation Control
Micropower Clock Generation
Micropower Sequential Timing
KEY SPECIFICATIONS
Ultra Low Supply Current: 1.9µA at 25kHz
Supply Voltage Operation: 1.55V to 5.25V
Single Resistor Sets FOUT at 50% Duty Cycle
3-pin User-Programmable FOUT Period:
FOUT Period Accuracy: 3%
FOUT Period Drift: 0.02%/°C
FOUT/PWMOUT Output Driver Resistance: 160Ω
The TS3004 is fully specified over the –40°C to +85°C temperature range and is available in a low-profile, 10-pin 3×3mm TDFN package with an exposed back-side paddle. They are priced at $0.95 USD for 1,000 unit quantities.