NVE Corporation has introduced low-cost versions of its award-winning IsoLoop® isolated RS-485 transceivers.
World's Smallest
NVE's unique narrow-body versions, designated with the -3E suffix, are the world's smallest isolated transceivers. The 0.15-inch wide 16-pin "dash 3" SOIC package is half the size of other isolators.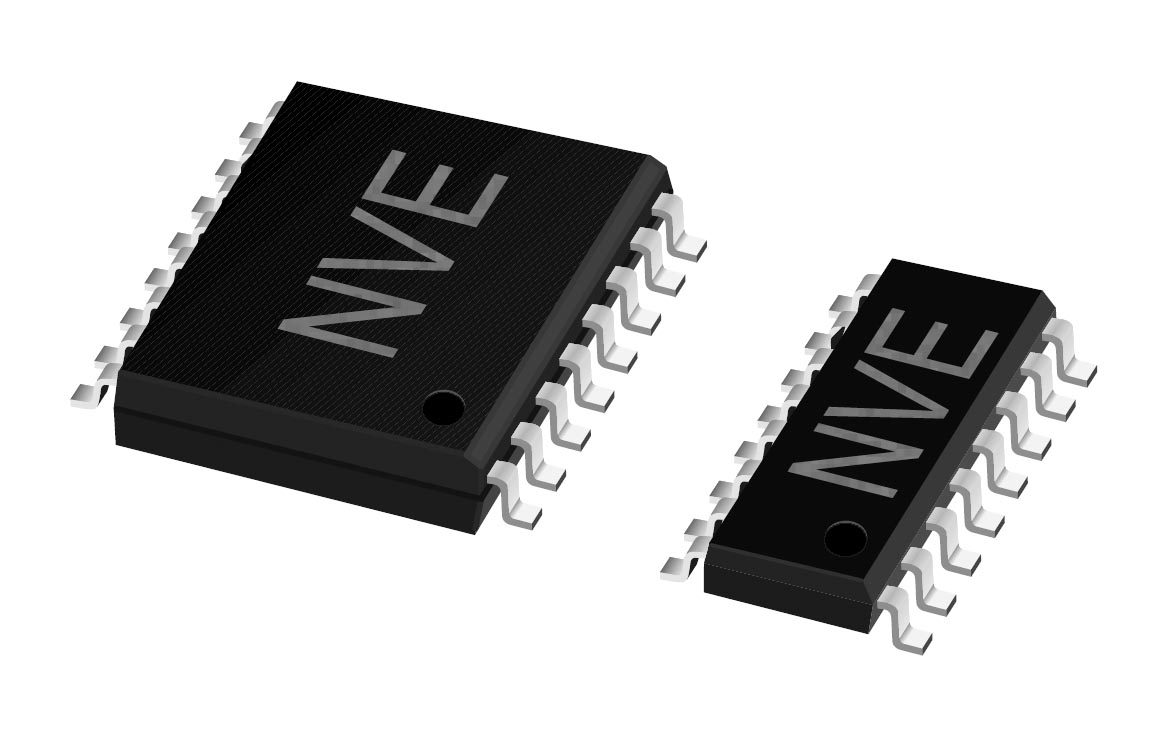 Best-in-Class Specifications
The new transceivers feature best-in-class speed and efficiency for a low-cost transceiver, including 4 Mbps data rate and 3 milliamp typical controller-side quiescent current.
The parts meet or exceed ANSI RS-485 and ISO 8482:1987(E) industry standards.
Rugged and Reliable
Designed for rugged industrial applications, IL3085 transceivers have a -40 to +85 degree Celsius temperature range, 15 kV bus ESD protection, and current limiting and thermal shutdown features. Receiver inputs feature a "fail-safe if open" design.
Parts are IEC 61010-2001 approved and UL 1577 recognized. Unlike optocouplers or other isolation technologies, IsoLoop isolators have indefinite life at high voltage.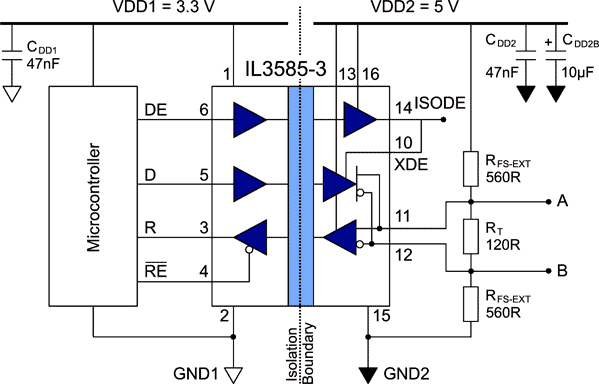 Typical connections.
Features
40 Mbps data rate
0.15" and 0.3" 16-pin SOIC packages
3 V to 5 V power supplies
20 ns propagation delay
5 ns pulse skew
Low quiescent supply current
44000 year barrier life
2500 VRMS isolation per UL 1577
20 kV/μs transient immunity
15 kV bus ESD protection
Thermal shutdown protection
−40°C to +85°C temperature range
Available Now
The narrow-body IL3085-3E and wide-body IL3085E are both in stock for immediate delivery. Pricing is $2.60 each for 1,000 pieces for the IL3085-3E, and $3.25 for the IL3085E.