TI's multi-mode power management unit integrates three "always-on" power supply options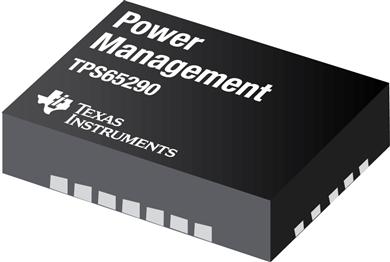 <Texas Instruments (TI) introduced a multi-mode power management unit (PMU) that enables ultra-low, total system quiescent current as low as 100 nA, which minimizes power consumption in battery-powered, microcontroller-based water and gas meters and other industrial applications. The TPS65290 PMU manages all power requirements in the system, including load conditions from 100 nA to 500 mA.
The TPS65290 PMU incorporates three factory configurable "always-on" power supplies for microcontroller (MCU) sleep mode and an automatic function for choosing power from either the input voltage or buck-boost converter. In addition, the TPS65290 operates seamlessly with TI's ultra-low power MSP430 MCUs, such as the MSP430F5328.
Key features and benefits of the TPS65290:
Extend battery life: Designers can develop systems to last beyond 10 years on a single battery by taking advantage of the new PMU's low-power, always-on bias supply for MCU sleep mode with the following three factory-selectable options:



10-mA, 100-nA quiescent current (IDDQ) sleep mode, zero leakage current bias controller with preset voltage.
10-mA, 400-nA IDDQ low-dropout regulator (LDO).
30-mA, 300-nA IDDQ buck converter.


Minimize board footprint, number of components and cost: Integrates a 500-mA buck-boost converter, 150-mA LDO, eight power distribution switches, input voltage recovery comparator, state machine, and factory-selectable SPI/I2C interface onto one 20-mm2 power management chip.

Configurable for multiple applications: Extensive EEPROM configurations and programmable output voltages allow designers flexibility to optimize their systems' output voltage.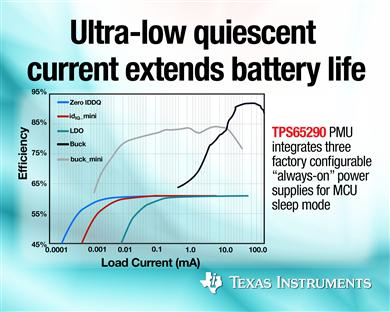 Availability and pricing
The TPS65290 is available today in a 24-pin, 4-mm × 5-mm, VQFN package for a suggested retail price of US$1.75 in 1,000-unit quantities. Designers can order the TPS65290BMEVM and TPS65290LMEVM evaluation modules to quickly evaluate their designs and speed time to market.