85V to 265V Input, > 0.97 PF, High Efficiency LED Constant Current Controller, for Up to 30W Compact Solid State LED Illumination Applications
Integrated Silicon Solution, Inc. announced the IS31LT3932, a high performance universal AC input LED Controller for the solid-state lighting (SSL) market place. With a universal input voltage range from 85 to 265VAC, a Power Factor Correction greater than 0.97 and a typical output current accuracy of ±3%, the IS31LT3932 is ideally suited for a wide range of offline LED retrofit lamp solutions including E26, GU10, PAR and T8. This true constant current LED controller can support LED lighting solutions of up to 30W with a minimal number of external components.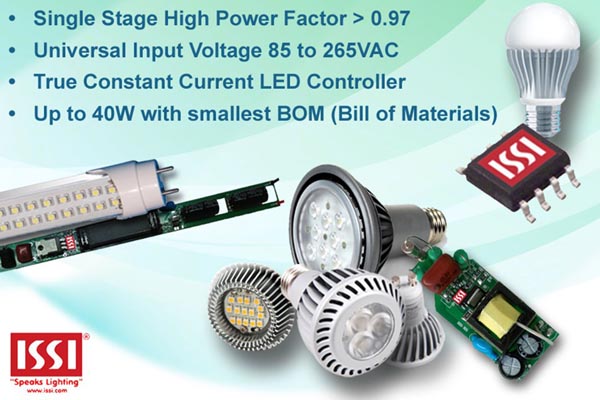 The IS31LT3932 utilizes a patent pending average current mode control scheme to maintain inductor current regulation regardless of variation of input and output voltage. The device implements a Pulse Frequency Modulation (PFM) technology without an optocoupler and secondary side control or loop compensation circuitry dramatically reducing the bill of material (BOM) and overall cost. The controller can be configured to operate in a Non-Isolated Buck or Buck Boost mode or Isolated Flyback mode. The device's unique architecture continuously monitors the output voltage and adjusts the operating frequency to maintain high LED current accuracy.
The IS31LT3932 has special input power line sensing and output voltage sensing circuits operating in primary feedback mode to deliver highly accurate current regulation to the LED load. The IS31LT3932 incorporates many features found in more complex controllers such as soft-start, Vcc under-voltage lockout with hysteresis, and protections against output over-voltage, output open and short circuit, primary side over-current and thermal shutdown with hysteresis. In addition, the versatile high voltage gate drive of the IS31LT3932 will support a wide range of low-cost power MOSFET devices.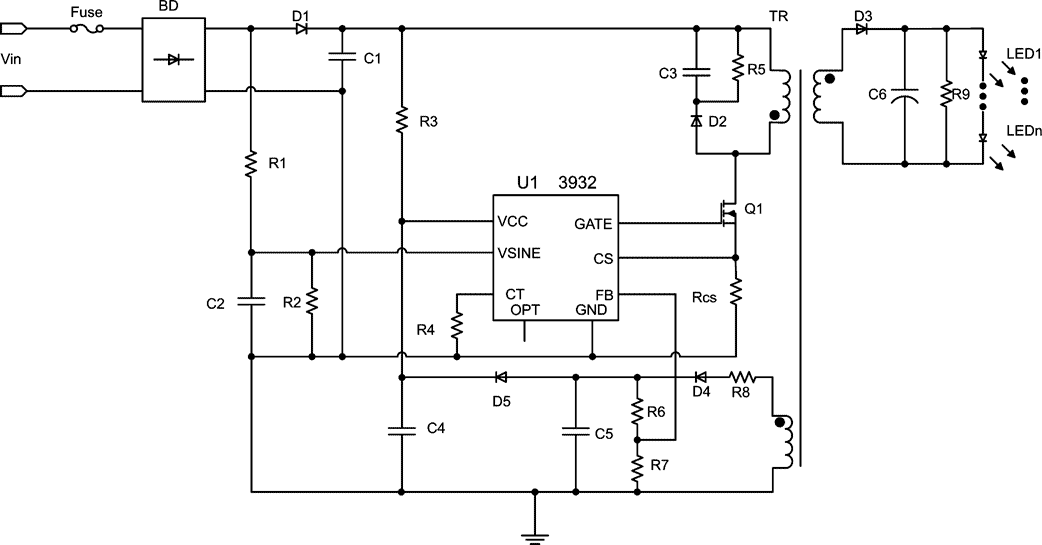 Typical isolated Operating Circuit
Price and Availability
The IS31LT3932 is available in a space saving, RoHS compliant SOP-8 package and is priced at $0.69 in 1,000 piece quantities.