Avago Technologies released ACPL-798J is a 1-bit, second-order sigma-delta modulator that oversamples an analog input signal into a high-speed data stream with galvanic isolation based on optical coupling technology. The ACPL-798J operates from a 5 V power supply with dynamic range of 82 dB with an appropriate digital filter. The differential inputs of ±200 mV (full scale ±320 mV) are ideal for direct connection to shunt resistors or other low-level signal sources in applications such as motor phase current measurement.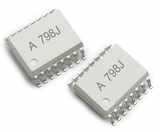 The analog input is continuously sampled by means of sigma-delta over-sampling using external clock, coupled across the isolation barrier, which allows synchronous operation with any digital controller. The signal information is contained in the modulator data, as a density of ones and zeros with data rate up to 25 MHz, and the data are encoded and transmitted across the isolation boundary where they are recovered and decoded into high-speed data stream of digital ones and zeros. The original signal information can be reconstructed with a digital filter. The ACPL-798J comes with an LVDS interface on both clock inputs and data outputs for better signal integrity.
Combined with superior optical coupling technology, the modulator delivers high noise margins and excellent immunity against isolation-mode transients. With 0.5mm minimum distance through insulation (DTI), the ACPL-798J provides reliable double protection and high working insulation voltage, which is suitable for fail-safe designs. This outstanding isolation performance is superior to alternatives including devices based on capacitive or magnetic-coupling with DTI in micro-meter range. Offered in an SO-16 package, the isolated ADC delivers the reliability, small size, superior isolation and over-temperature performance which motor drive designers need to accurately measure current at much lower price compared to traditional current transducers.
Features
Up to 25 MHz external clock input range
LVDS clock and data interface.
1-bit, second-order sigma-delta modulator
16 bits resolution no missing codes (12 bits ENOB)
75dB Typical SNDR
3.5µV/°C maximum offset drift
±1% maximum gain error
±200 mV linear range with single 5 V supply
–40°C to +105°C operating temperature range
SO-16 package
25 kV/s common-mode transient immunity
Safety and regulatory approval (pending):
IEC/EN/DIN EN 60747-5-5: 1414 Vpeak working insulation voltage
UL 1577: 5000 Vrms/1min double protection rating
CSA: Component Acceptance Notice #5
Applications
Motor phase and rail current sensing and DC bus voltage sensing.
Power inverter current and voltage sensing
Industrial process control
Data acquisition systems
General purpose current sensing and voltage sensing
Traditional hall effect current sensor replacements
Benefits
LVDS Interface for low EMI emissions and robust signal interface in noisy environments.
Modulator using external clock enables synchronized data conversion
Auto-insertable SO-16 package smaller than conventional current transducers
High CMR capability provides smoother motor control
Advanced sigma-delta converter technology provides precision, stability and reliability in motor control
Low offset voltage, low gain error and high linearity
Meets worldwide safety approvals: UL 1577, CSA and IEC/EN/DIN EN 60747-5-5