STMicroelectronics is expanding three of its advanced high-voltage power MOSFET families with the introduction of two new power packages, making energy-conscious equipment such as battery chargers, solar microinverters and computer power supplies even more compact, robust and reliable.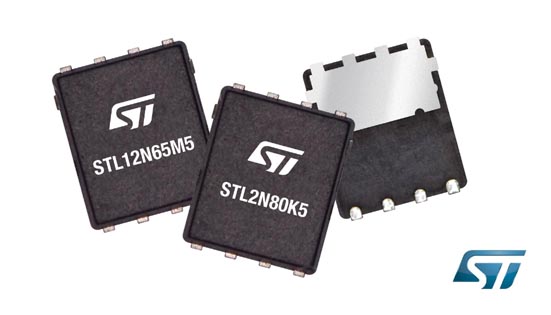 ST's advanced PowerFLAT™ 5×6 HV and PowerFLAT 5×6 VHV packages provide the large insulation path lengths and clearances required for operation at up to 650 V or 800 V, within the same 5 mm × 6 mm footprint of a standard 100 V PowerFLAT 5×6. This is 52% smaller than the popular DPAK footprint. In addition, the package is only 1 mm high and features a large exposed metal drain pad that maximizes heat dissipation into pc-board thermal vias.
This combination of features simultaneously increases high-voltage capability, ruggedness, reliability, and system power density.
ST is introducing three 650 V MDmesh™ V MOSFETs in the PowerFLAT 5×6 HV package, priced from $2.20 for the STL12N65M5, and four 800 V SuperMESH 5 MOSFETs in the PowerFLAT 5×6 VHV package, which is optimized for very high voltage ratings, priced from $1.50 for the STL2N80K5. All prices are for orders over 1000 pieces.
In addition, ST has started sampling two new 600 V fast-switching MDmesh II Plus low Qg MOSFETs in PowerFLAT 5×6 HV.