Infineon's BGSF1717MN26 is a Double Pole 14 Throw (DP14T) Antenna Switch Module (ASM) optimized for wireless applications up to 3.8 GHz. It is the perfect solution for multi-mode handsets which may be using carrier aggregation based on LTE, LTE-A, 3.5 G, 3 G and quad band GSM. This device is designed to fully support QUALCOMM platforms (WTR16x5) and is also suitable for other mobile phone chipsets where high performance based on DP14T is a must.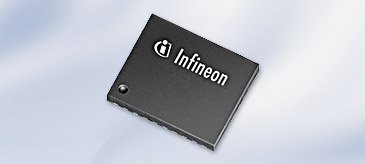 Infineon's new simple leadless package technology optimizes performance and cost. The low-pass filters based on Infineon's integrated passive device (IPD) technology takes integration to the next level. The module comes in a miniature TSNP package and comprises a high-power CMOS DP14T switch with integrated RFFE MIPI controller and harmonic filters for GSM high- and low-band transmit paths. Infineon's CMOS technology enables best-in-class insertion loss combined with ultra-high linearity.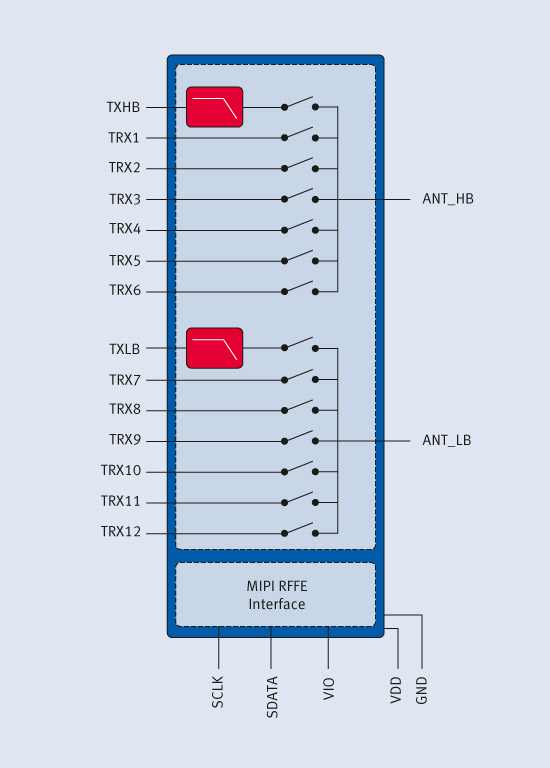 In typical applications, no external DC blocking capacitors are required if DC is not applied to any of the RF ports. BGSF1717MN26 is suitable for smartphones, tablets and mobile phones. It is also the perfect fit for wireless machine-to-machine modules. The switch module configuration is shown in the diagram.
Features
Suitable for multi-mode LTE/LTE-A, 3.5 G, 3 G, GSM applications and carrier aggregation
0.1 to 3.8 GHz coverage
Ultra-low insertion loss and harmonics generation
Integrated GSM transmit filters
12 interchangeable, high-linearity WCDMA TRX ports
TRX10 designed for ultra high linearity
2 high-linearity GSM TX paths
High port-to-port isolation
Integrated MIPI RFFE interface
No decoupling DC capacitors required if no DC applied on RF lines
Small form factor: 3.2mm × 2.8mm × 0.73mm
Applications
Smartphones
Tablets
M2M communication systems