Infineon's digital voltage regulation solution combining a DrBlade™ 2 power stage and a Magni4 controller provides maximum configuration flexibility with a minimum external component count. This solution was designed to meet the increasingly stringent voltage regulation requirements of new microprocessor generations, memory systems and SoC power applications. Small, extremely efficient and thermally enhanced power stages in the novel RoHS 2016-compliant blade packaging technology maximize power density and save PCB real estate. Continuous innovation in FET, driver and controller technology enable peak efficiencies above 95% for maximum system performance.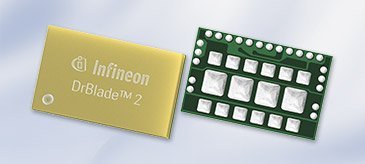 The extensively validated whole system approach offers sense and protection features for superior system robustness as well as higher reliability. This device comes with a Graphic User Interface (GUI) to program controller parameters and tune the VR in live mode.
Efficiency measurement of DrBlade™ 2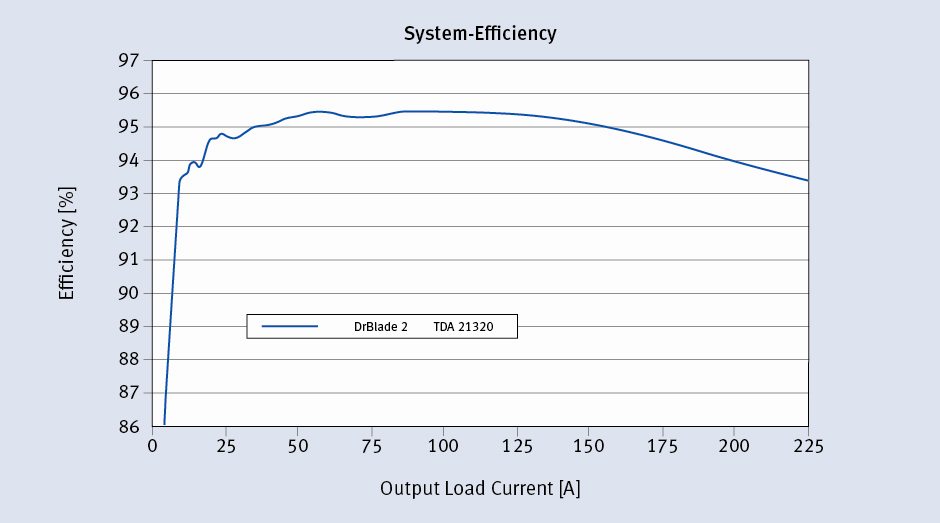 Infineon also has a highly trained global engineering network to provide high-quality support from design to manufacturing.
Features
60 A max average load current
4.5 V to 16 V input voltage
Temperature sensing and thermal waning
Load current sensing
Digital configuration
Applications
Desktop and server Vcore and non-Vcore buck converters
Single phase and multiphase point of load designs
CPU/GPU regulation in notebooks, desktop graphic cards, DDR memories, graphic memories
High power density voltage regulator modules (VRM) and system on chip designs