Low saturation voltage and optimal switching characteristics deliver higher efficiencies and improved performance
Alpha and Omega Semiconductor announced the addition of AOK30B135W1 to its 1350 V AlphaIGBT™ family. The new AOK30B135W1 has been optimized to deliver high performance by reducing switching loss in soft-switching home appliance applications such as induction cooking, rice cookers, and inverter-based microwave ovens.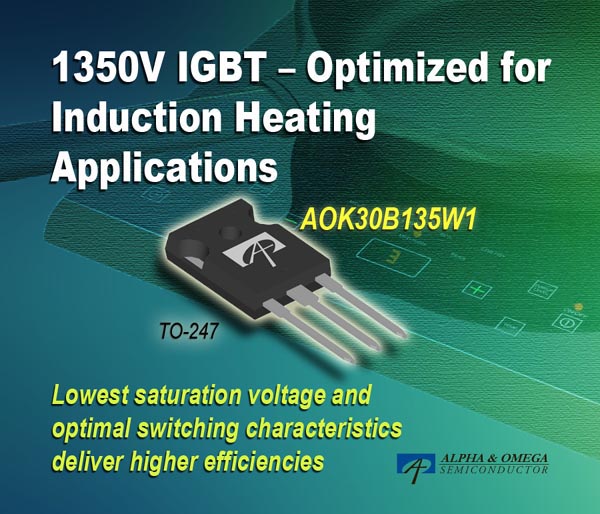 The AOK30B135W1 is designed with the latest patent-pending AlphaIGBT™ technology platform and features industry-leading low VCE (SAT) and a quick turn-off to ease power loss throughout the conduction and switching process. The exceptional BVCES rating and durable BV performance allow for enhanced safety voltage margin to avoid substantial damage from voltage transients. Additionally, EMI is decreased as a result of soft turn-off current waveforms.
Technical Highlights
1350 V IGBTs with freewheeling diode in a TO-247 package
High breakdown voltage offers ample design margin to improve system reliability
Lowest turn-off delay time, less than 200 ns
IC (100°C) = 30 A
TJ(max) = 175°C
Pricing and Availability
The AOK30B135W1 is immediately available in production quantities with a lead-time of 12-14 weeks. The unit price for 10,000 pieces is $1.5.