With an Operating Range of 30 to 8000 MHz, the F2910 is a High Linearity, Low Insertion Loss Switch That Targets a Multitude of Wireless and RF Applications
Integrated Device Technology, Inc. (IDT) introduced a new broadband single-pole, single-throw (SPST) absorptive switch developed for a wide range of wireless and RF applications. With an operating frequency range of 30 to 8000 MHz, the IDT® F2910 is a high-linearity, low-insertion loss 50-ohm switch that delivers exceptional RF performance. The device is ideal for 4G/LTE-Advanced base stations, portable wireless applications, point-to-point, public safety infrastructure, and test equipment.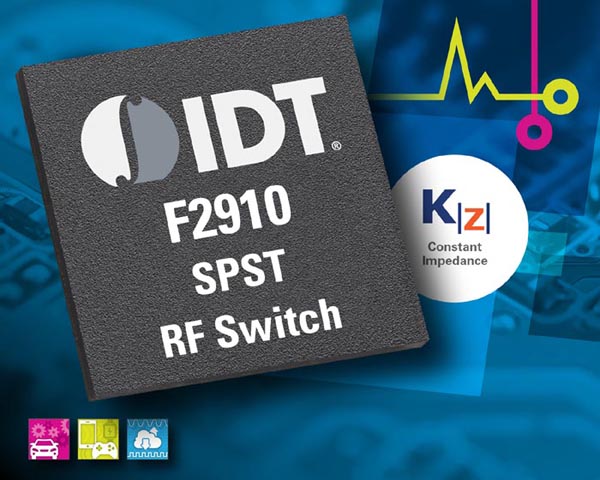 The F2910 features IDT's industry-first K|Z| constant impedance technology, which maintains near-constant impedance when switching RF ports and improves hot switching ruggedness. The device offers excellent linearity and isolation performance while providing a 50-ohm termination on the output port when in isolation mode. The F2910 uses a single supply voltage and supports 3.3 V or 1.8 V control logic for ease of design.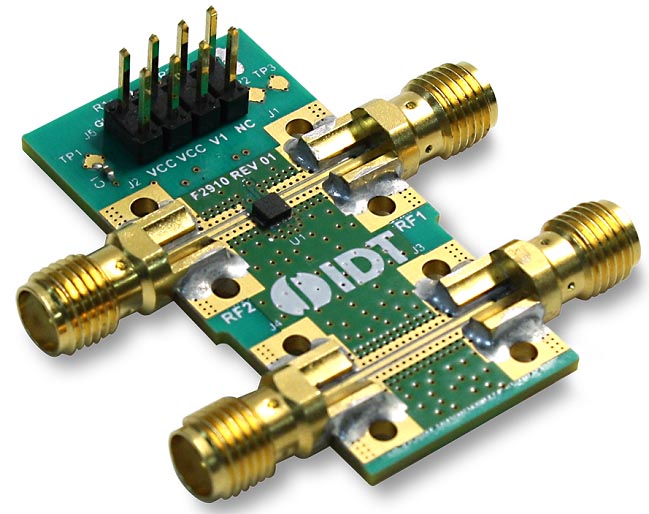 F2910EVBI Evaluation Board for High Reliability SPST Absorptive
RF Switch with Kz.
F2910 Feature Highlights
Frequency range: 30 to 8000 MHz
RF performance @ 4 GHz

IL = 0.67 dB
Isolation = 41 dB
RL = 20 dB
IIP3 = 65 dBm
IIP2 = 118 dBm
P1dB = +35 dBm

Supply voltage: 2.70 V to 5.50 V
Switching time = 265 ns
1.8 V or 3.3 V control logic
Operating temperature range: –55 °C to +105 °C
Pin-compatible with competitive devices