New synchronous buck regulator with enhanced light load efficiency and lower output voltage
Alpha and Omega Semiconductor (AOS) announced the release of the AOZ6605, a high efficiency and simple-to-use synchronous step-down regulator with PWM switching frequency of 650 kHz and input voltage range of 4.5 V to 18 V. The solution is ideal for consumer, networking and industrial applications such as LCD TVs, set-top boxes, cable modems, and power supplies.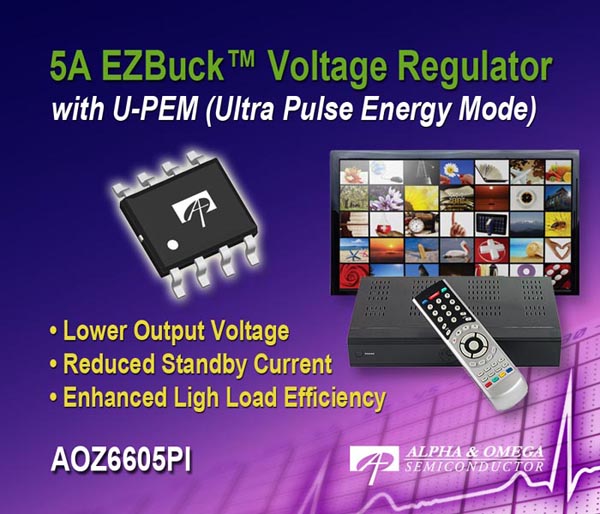 Leveraging AOS's co-package EZBuck™ design, the AOZ6605 integrates a 55 mΩ high-side and 12 mΩ low-side MOSFET, and provides 5 A of continuous output current at over 90% efficiency and maintains it at 86% efficiency while in 10 mA light load operation.
When operating in low output current conditions, the AOZ6605 will operate in an ultra pulse energy mode (U-PEM) to obtain high efficiency. Under heavy load steady-state conditions, the AOZ6605 will operate in fixed frequency and Continuous-Conduction Mode (CCM).
Technical Highlights
AOZ6605
Major Competitor
Input Range
4.5 V to 18 V
4.5 V to 18 V
FET On-resistance (typ)
High-side: 55 mOhms
Low-side: 12 mOhms
High-side: 68 mOhms
Low-side: 37 mOhms
Package
Epad-SO8
Epad SO-8
Efficiency at 5 A
92%
89%
Thermal (5 A)
70.9 °C
74.9 °C
Device Spec Table
Part Number
Operating
Min (V)
Operating
Max (V)
Max Load
Current (A)
Min VOUT
(V)
Frequency
(kHz)
Light
Load
Features
Soft
Start
Package
AOZ6643
4.5
18
3
0.8 V
500
No
Internal
DFN3X3-8L
AOZ6622
4.5
18
2
0.8 V
550
Yes
Internal
DFN3X3-8L
AOZ6623
4.5
18
3
0.8 V
550
Yes
Internal
DFN3X3-8L
AOZ6605
4.5
18
5
0.6 V
650
Yes
External
DFN3X3-8L
Pricing and Availability
The AOZ6605 is immediately available in production quantities with a lead-time of 12 weeks. The unit price of 1,000 pieces is $1.30.