Bourns, Inc. announced a new series of bridge rectifier diode products designed for converting alternating current (AC) to direct current (DC) in power applications. Designated Bourns® Model CDTO269-BR1xL, this new series of surface mount bridge rectifier diodes features low power loss and high efficiency, low forward voltage, high surge capability and high reverse robustness. Because offering greater power efficiency has become a key requirement in many next-generation designs, these features make Bourns' new bridge rectifier diodes ideal conversion devices in many switch mode power supply (SMPS), bridge full wave rectification, lighting ballasts and battery charger applications.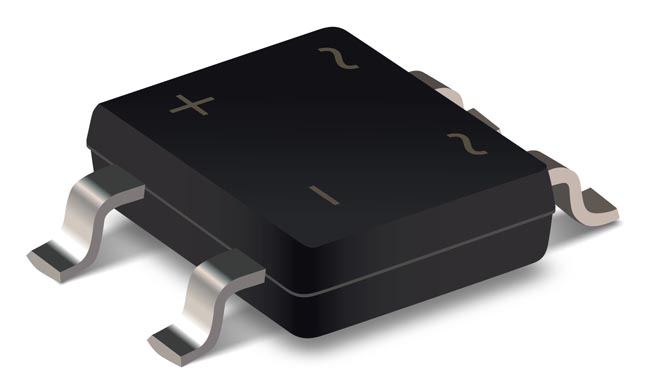 Bridge rectifier diodes have become popular high reliability, small size and cost-efficient solutions delivering multiple advantages. These devices offer added rectification efficiency and a higher Transformer Utilization Factor (TUF) than standard Bourns® rectifier diodes, thus requiring only a simple filtering circuit and transformer, enabling a smaller power transformer to be used.
Electrical Characteristics
Maximum repetitive peak reverse voltage: 190 V and 380 V
Maximum output rectified current: 1 A
Maximum instantaneous forward voltage: 0.95 V
Peak forward surge current: 50 A
Operating temperature range: –50 °C to +150 °C
Package: TO-269AA (4.7 mm × 3.9 mm × 1.6 mm)
Pricing and Availability
The CDTO269-BR1xL series from Bourns is available now and is RoHS compliant. As a pricing reference, Model CDTO269-BR1xL is priced at $0.175 each in 15,000-piece quantities.