Intersil Corporation has introduced a new family of single and dual port dual protocol transceivers featuring the industry's highest ESD (electrostatic discharge) rating and best price/performance in a tiny, space saving, QFN package.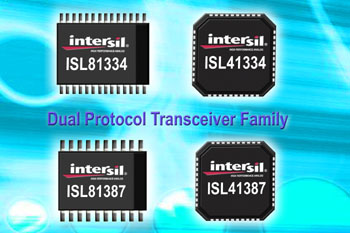 Intersil's new family includes two dual port ICs, the ISL81334 and ISL41334 and the ISL81387 and ISL41387 single port devices. Each transceiver features 15kV (HBM) ESD protection in compact packages that provide designers with high flexibility for connecting either RS-232 or RS-485/RS-422 devices. All four versions operate on 5V supplies, provide data rates of 20Mbps, feature flow-through pinouts to simplify board layouts, and include 2.7V differential VOUT to provide optimal noise immunity in RS-485/422 networks. Applications include single board computers, factory automation systems, security networks, industrial and process control networks, point-of-sale equipment, gaming, and level transistors.

The ISL41334 and ISL41387 provide additional functionality, including lower speed and edge rate options for EMI (electromagnetic interference) sensitive designs, or to allow longer bus lengths. These devices also features a logic supply voltage pin (VL) that sets the VOH level of logic outputs and the switching points of logic inputs, to be compatible with another supply voltage in mixed voltage systems.

Performance and Protection
When any port on each of the devices is in RS-232 mode, an on-board charge pump generates compliant ±5V output levels. Each transceiver is RS-232 compliant with the Rx outputs handling up to ±25V and the Tx output handling ±8V. In RS-485 mode, each transceiver supports both the RS-485 and RS-422 differential communication standards. The RS-485 receiver features full failsafe operation so output remains high even if inputs are open or shorted. The RS-485 transmitter supports as many as three data rates; two are slew-rate limited. The charge pumps are disabled when both ports on the dual port ICs are in RS-485 mode, to save power, minimize noise and eliminate pump capacitors.

ISL81334, ISL41334, ISL81387, ISL41387 Key Features
User-selectable RS-232 or RS-485 mode
Single or dual port
20Mbps data rate in RS-485 mode
Additional user-selectable RS-485 data rates in the QFN package
Fast RS-232 data rate up to 650kbps
Large, 2.7V differential VOUT for optimal noise immunity
Loopback mode to facilitate board self-test
Low current shutdown mode
V Logic pin in the QFN package for mixed supply systems
Flow-through pinouts to simplify layouts
Target Applications
Single board computers
Factory automation
Security networks
Industrial/process control networks
Point-of-sale equipment
Level transistors (e.g., RS-232 to RS-485)
Gaming equipment, such as slot machines
Pricing and Availability
The ISL41334 and ISL41387 are available in 40-pin QFN packages, an innovative Intersil option that offers significant board area savings for space-constrained applications such as point-of-sale terminals. The ISL81334 and ISL81387 are available in 20-lead SSOP or SOIC packages. Prices for the single port ISL81387 and ISL41387 start at $4.60 each in 1,000-unit quantities; dual port versions of the ISL81334 and ISL41334 are priced at $5.27 each in 1,000-unit quantities.