Integrated circuit features self-detection signal
American Bright introduces a full line of addressable RGB LED devices with built-in IC. This intelligent LED device integrates RGB chips and a control circuit into a single and compact package, available in 5050, 3528, and 4020 (side-emitting), suitable for indoor and outdoor, gaming machine, and all kinds of entertainment lighting. The controlled integrated chip features self-detection signal, support for continuous oscillation, and pulse width modulation (PWM) output that can maintain static screen. These new devices have a low power consumption of 0.2 W (max: 1 W), applied voltage of 5 V and an operating temperature –40 °C to 80 °C. The emitted red, green, blue can achieve various color mixes with 8-bit (256 level) color set with 5-bit (32 level) brightness adjustment.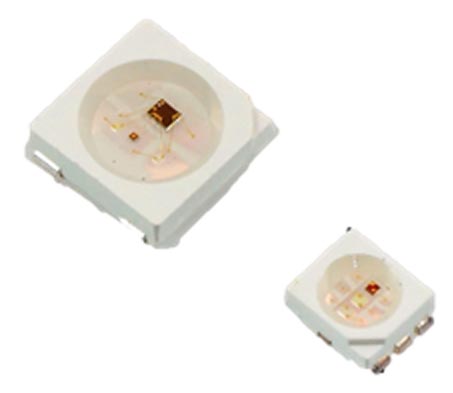 The RoHS-compliant RGB LED chip is well-suited for infrared and vapor phase reflow solder process and automatic SMT pick and place equipment. This new PLCC RGB device features a water clear lens and is ideal for a multitude of applications including indoor and outdoor commercial and residential lighting, light bars, and gaming equipment.
Features and Benefits:
Self-detection signal
Refresh rate of 400 cycles
8-bit (256 level) color set
5-bit (32 level) brightness adjustment
Low voltage .2 W power consumption
Built in support for continuous oscillation
Available in 5050 and 3528 (top-emitting), and 4020 (side-emitting) packages
Application:
Full color display
Gaming Machines
Soft light bar and rope lighting
Large LED display and backlighting
Decoration and entertainment lighting
Indoor and outdoor commercial and residential architectural lighting
List of RGB LEDs: