ProXO devices combine programmability with high performance, low power, flexibility and the industry's smallest form factors
Integrated Device Technology (IDT), a wholly owned subsidiary of Renesas Electronics Corporation announced the availability of its new ProXO family of programmable, ultra-low noise clock oscillators. The ProXO devices perform the critical low phase noise clocking functions required by accelerator cards, 100G and 400G switches and routers and optical transceivers used in data center, communications infrastructure, and industrial applications.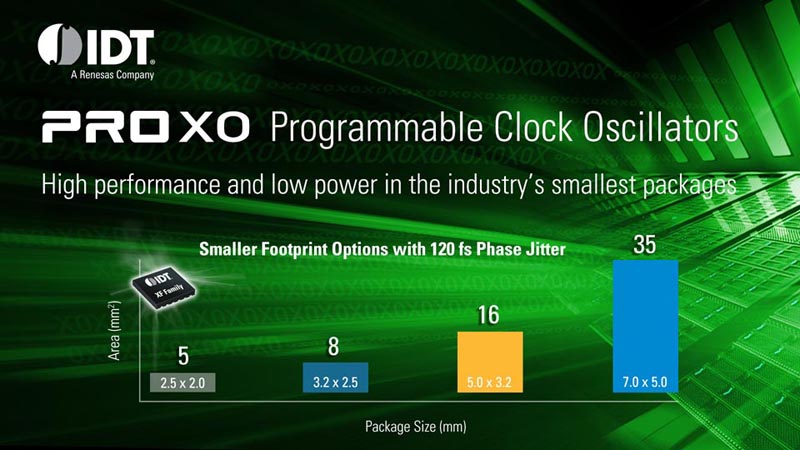 "IDT's ProXO family are the next generation of clock oscillators with a combination of lower noise, smaller form factor, flexibility, and low power," said Kris Rausch, vice president and general manager of IDT's Timing Products Division. "The devices optimize cost of ownership by allowing the customer to qualify once and use on multiple platforms requiring various frequencies and output standards."
ProXO devices are available in multiple package options, including the industry's smallest XO with sub-120 fs phase jitter performance, measuring just 2.5 mm × 2.0 mm. The high programmability of the devices gives designers the flexibility to select any frequency including those not readily available in traditional markets. Additionally, the devices have an input voltage range from 1.8 to 3.3 and offer four selectable output types (LVDS, CML, LVPECL and HSCL). All of these features are intended to save significant design time and get to market faster.
Additional features of the ProXO family include a self-contained resonator, which eliminates the needs for an external resonator and keeps the footprint small. The analog and digital steerable frequency control simplifies frequency adjustments to synchronize with data recovery clocks and smooths frequency switching to allow frequency tuning on the fly without resetting the system. As with all XO offerings from IDT, custom samples of new XF and XP series are available within two weeks.