STMicroelectronics has expanded its STSPIN32 programmable motor controller family with the STSPIN32F0B system-in-package (SiP) for cost-effective one-shunt current sensing. The new motor controller is an ideal all-in-one solution for the growing market of battery-operated power tools.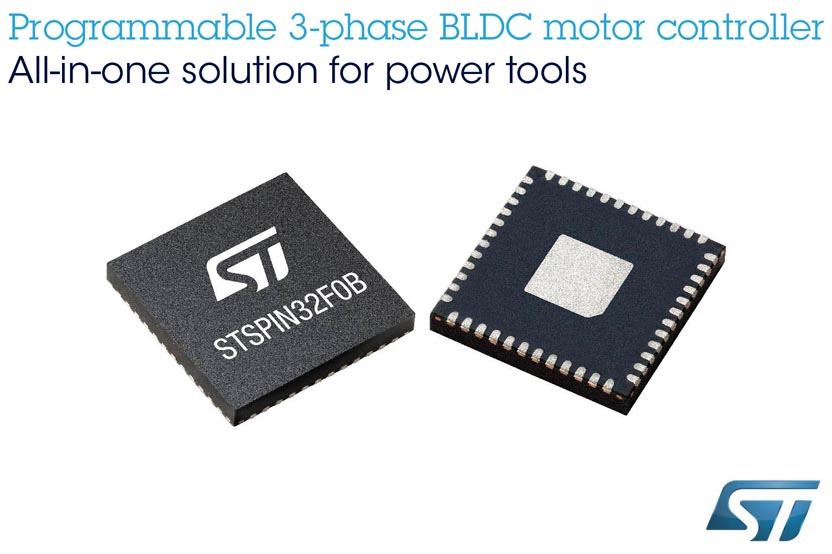 By integrating a single op-amp for current sensing, the STSPIN32F0B saves individual 3-phase BLDC coil-current sense resistors and makes extra I/O pins available for user features. The new SiP contains a 48 MHz STM32F031x6 microcontroller (MCU) capable of running a 6-step motor-control algorithm as well as other application-level functionalities.
With 20 GPIO pins the STSPIN32F0B allows easy access to the MCU's internal features that include up to five general-purpose timers, a 12-bit ADC and a temperature sensor. The MCU also provides I2C, UART, and SPI ports.
The STSPIN32F0B SiP contains a triple half-bridge gate driver capable of sourcing up to 600 mA per channel into external MOSFETs for powering the motor. In addition, a 3.3 V DC/DC buck converter and 12 V low-dropout (LDO) regulator provide the voltage rails to supply the MCU, gate driver, and external components, further reducing the bill of materials and enhancing overall system efficiency.
Further integrated features include bootstrap diodes for reliable startup and protection mechanisms that ensure robust operation even in demanding industrial applications. These include real-time programmable over-current protection, cross-conduction/shoot-through prevention, under-voltage lockout (UVLO) on all power supplies, and over-temperature protection.
ST provides a selection of ready-to-use 6-step motor-control algorithms for sensored or sensorless BLDC control, as part of a complete set of hardware, software, and firmware tools that simplify and streamline new-product development with the STSPIN32 family. In addition, access to the integrated STM32's bootloader allows Over-the-Air (OTA) firmware updates to boost flexibility and lower cost of ownership.
The STSPIN32F0B has an extended supply-voltage range from 45 V down to 6.7 V, allowing use in a wide variety of products including portable devices powered by as few as two lithium-polymer (LiPo) cells. To save power when the motor is idle, and thus maximize battery runtime, a standby mode is available that disables all circuitry except the DC-DC converter supplying the MCU.
The STSPIN32F0B is in production now and available in a compact 7 mm × 7 mm QFN package, priced from $1.605 for orders of 1000 units.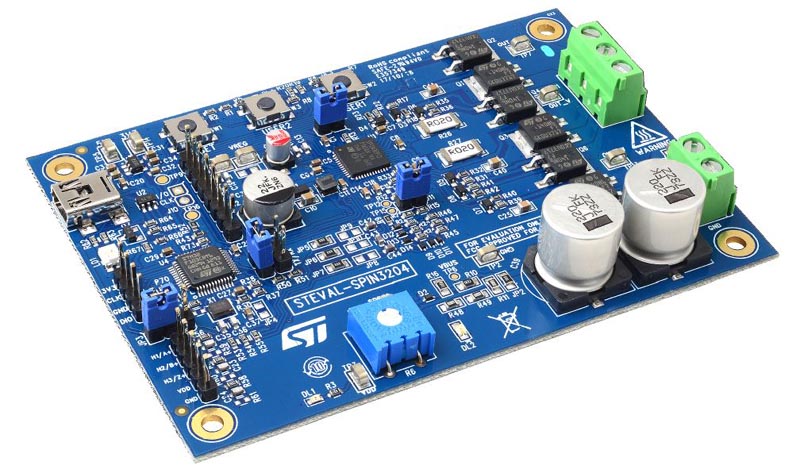 Six-step brushless motor driver evaluation board for applications based
on the STSPIN32F0B BLDC controller.