Broadcom announced sampling of its StrataXGS® Trident 4 BCM56880 switch series, delivering the industry's highest Ethernet switching performance combined with compiler-programmable packet processing and telemetry. Offering bandwidths of 2.0 to 12.8 terabits per second (Tb/s), the Trident 4 brings dramatic cost and power savings and new levels of network availability and runtime flexibility throughout the enterprise network infrastructure.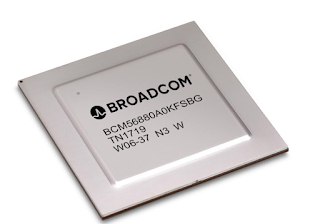 Enterprises have traditionally operated in a closed ecosystem, burdened with high network hardware and software costs and high power usage due to complex multi-chip switch ASIC solutions. In contrast, operators of many large data centers work in an open ecosystem using switch merchant silicon solutions to lower system cost and power consumption. With the introduction of Trident 4, Broadcom is leveling the playing field by enabling enterprises to utilize merchant silicon-based systems throughout their networks, from campus access and aggregation to data center top-of-rack and spine.
A key feature of Trident 4 that enables these benefits is the ability to scale from 2.0 to 12.8 Tb/s on monolithic 7nm, fully programmable silicon implementations with full enterprise-class functionality. No switch silicon has previously provided this combination of bandwidth levels, flexibility, and robust concurrent functionality. The high bandwidth of 12.8 Tb/s allows collapsing of multi-chip systems into a single chip, greatly reducing cost, power, and the complexity of system software while also improving system reliability. The groundbreaking, compiler-programmable architecture provides flexibility in both packet forwarding and telemetry, future-proofing networks, providing superior visibility, and accelerating innovation. Unique to Trident 4, this programmability is provided while maintaining a high degree of feature concurrency. This allows the same architecture with the same network operating system (NOS) and hardware programming to be used throughout the network, dramatically improving operational consistency.
Systems utilizing Trident 4 will have a rapid path to market since the device is pin-compatible with Tomahawk® 3. This enables the reuse of existing high-volume hardware systems. Further, Trident 4 offers easy software migration from previous Tomahawk and Trident systems by providing the option for two sets of software interfaces: the widely-deployed SDK6 APIs and also the logical table-based APIs offered with SDKLT.
In addition, Trident 4 offers a new unique benefit for enterprise networks: runtime programmability. While compile-time programmability allows high-level protocols, forwarding behavior, and telemetry frameworks to be defined when the system is first booted, runtime programmability allows numerous functions to be updated while the switch is in operation, with no down time, and no dropped packets. For example, access control policy tables, size and type of telemetry metadata, packet trace, and packet drop can all be modified with no disturbance to packet flow. The result is a dramatic reduction in operational complexity, higher network flexibility, and higher network availability.
Trident 4 Highlights
Single scalable switch architecture from 12.8 Tb/s to 2 Tb/s
Comprehensive, concurrent feature set
Compiler-programmable packet processing
Flexibility to implement advanced network functionality such as DDoS protection, application load balancing, and large-scale NAT
Advanced instrumentation including programmable in-band and streaming telemetry
Industry-leading packet buffer and database sizes
7 nm monolithic implementation